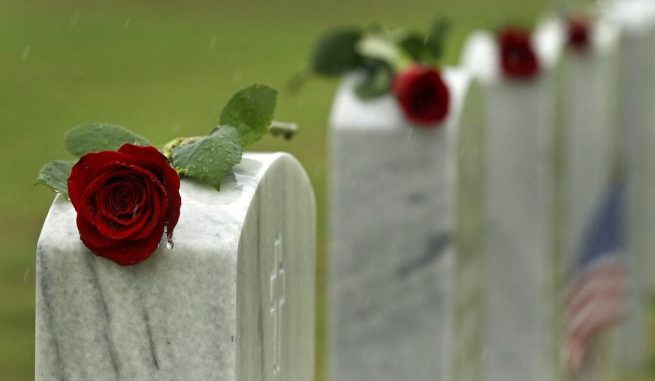 OAN Newsroom
UPDATED 6:36 AM PT — Tuesday, May 26, 2020
Thousands of Americans across the nation visited memorial sites to honor fallen heroes on Memorial Day despite the ongoing coronavirus pandemic.
"No matter what seems to get thrown at us, from anybody, we are one, we are America strong," said Lora Johnston, the daughter of a fallen veteran.
Memorial ceremonies nationwide were canceled due to the ongoing pandemic, but it didn't stop citizens from paying their respects to those who served in the nation's armed forces.
"The divisions now in our country..the hope is that we'll get back together as we did after those divided times and find a common thread that holds us all together, particularly as we face the threat of this virus," said Judd Star, a U.S. veteran.
On Monday, crowds took to Washington, D.C. war memorials where they left flowers and American flags throughout. Officials enforced social distancing by creating one-way paths to spread out the flow of traffic.
"You've got to protect yourself, so there are rules and we must follow them, you know keep the distance from the people," stated U.S. veteran Fidel Rodriguez. "And I think, for the most part, what I'm seeing is a lot of people doing that."
In an effort to enforce safety guidelines during the virus outbreak, several groups live streamed memorial services to honor the sacrifices made for the nation.
"Now most years, we'd have the opportunity to commemorate their sacrifice together, but instead we're distanced," stated Kansas City, Missouri Mayor Quinton Lucas, (D) during a live stream. "Distanced physically, but not at our devotion to this cause."
Meanwhile, President Trump and First Lady Melania attended a wreath laying ceremony at the Arlington National Cemetery. The silent event happened Monday at the Tomb of the Unknown Soldier.
#GenMilley: This #MemorialDay, we pause to honor the more than 1 million Americans who made the ultimate sacrifice since the founding of our nation. We remember their courage. We remember their selfless service & we remember how they lived.

Watch his full tribute to #HonorThem. pic.twitter.com/qsF7eNrpyJ

— The Joint Staff ???????? (@thejointstaff) May 25, 2020