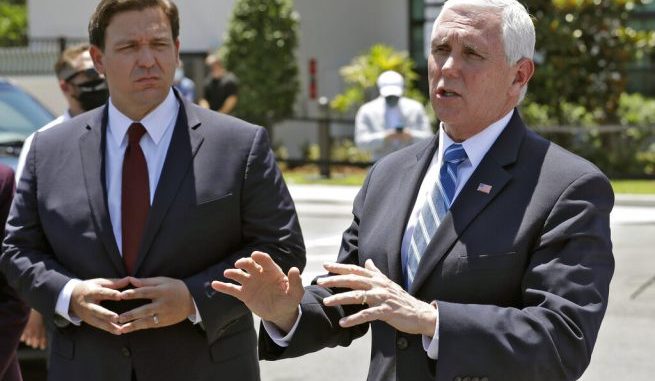 OAN Newsroom
UPDATED 1:15 PM PT — Wednesday, May 20, 2020
Vice President Mike Pence recently announced the U.S. is considering additional travel restrictions on various countries. Pence made the comment Wednesday while discussing reopening plans with Florida Governor Ron DeSantis and tourism industry leaders.
He also visited a nursing home in the Sunshine State, where he handed out personal protective equipment, including hundreds of face masks, gloves and goggles.
The vice president later elaborated on President Trump's announcement that he's considering restricting travel from Brazil as the country experiences a spike in coronavirus cases.
"We're watching very carefully what's taking place in South America, including in Brazil," stated Pence. "We saw in recent days it was a significant spike in cases, and the president's made it clear that we're considering additional travel restrictions, not just including Brazil, but other countries."
Governor DeSantis also spoke to reporters and defended his state's handling of the coronavirus. According to him, the death rate has dropped in Florida and is lower than the death toll in several surrounding states.
RELATED: President Trump Considering Brazil Travel Restrictions