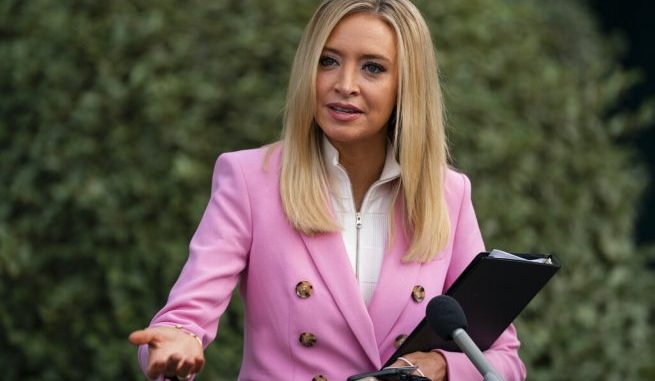 OAN Newsroom
UPDATED 12:40 PM PT — Wednesday, May 20, 2020
Press Secretary Kayleigh McEnany has reaffirmed the benefits of the president's use of hydroxychloroquine outweigh its risks. During a recent interview, she said that the FDA commissioner told her the anti-malaria drug has a long safety profile and that it's okay to be used outside of hospitals, as long as there is a doctor's prescription.
Earlier this week, President Trump announced he's been taking hydroxychloroquine to prevent being infected by coronavirus.
President Trump: "I happen to be taking it. I'm taking it, hydroxychloroquine. A couple weeks ago I started taking it…I get a lot of positive calls about it…I take a pill every day."

Full video here: https://t.co/FWjHY8AWLb pic.twitter.com/cUPVQYenuo

— CSPAN (@cspan) May 18, 2020
McEnany stated many medical professionals have been optimistic about the drug and criticized mainstream media outlets for spreading misinformation about its dangers.
"To completely act as if this is some sort of poison when there are many people around the world taking this for lupus and other illnesses, it just does more harm than good. That kind of fearmongering, that kind of misinformation. It's frustrating to turn it on and see that, because it ultimately is very damaging." – Kayleigh McEnany, White House Press Secretary
She went on to stress that hydroxychloroquine has been approved to treat a number of other conditions and that patients have a right to try it when they're facing a fatal illness.
McEnany also spoke out on faith and the president, saying "prayer made a difference" in the 2016 election. On Wednesday, she said she believes President Trump is "the person meant for this moment" in response to being asked if God put him in office for a time like this.
She recently highlighted the president's work on issues important to the nation's religious community.
"This country needed someone to fight for life, religious liberty, and I believe President Trump was that person. He's done that with the judges he's put in place, ensuring federal dollars don't go to abortions, and mentioning religious liberty in his UN speech was key. There's just so much he's done to fight for the Christian community." – Kayleigh McEnany, White House Press Secretary
According to the press secretary, the Obama administration committed a crime by unmasking General Michael Flynn. She further called out the media for lacking curiosity about the matter.
RELATED: White House Physician: 'Potential Benefit' To President Trump Taking Hydroxychloroquine Outweighs Risks