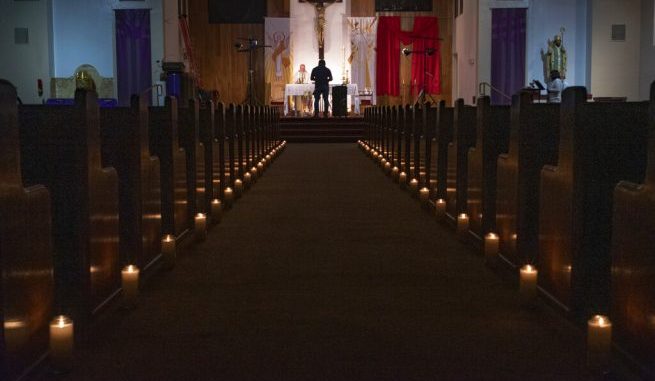 OAN Newsroom
UPDATED 9:08 AM PT — Wednesday, May 20, 2020
The Justice Department is calling on the governor of California to do more when it comes to accommodating in-person religious gatherings in the state.
In a letter addressed to Gov. Gavin Newsom (D) Tuesday, the department raised a series of civil rights concerns and warned the state's stay-at-home order could be violating religious freedoms.
Specifically, the notice questions why religious gatherings are not considered essential, while other sectors such as the entertainment and eCommerce industries are being allowed to resume operations.
DOJ's letter to CA Gov. Newsom on civil rights and the covid-19 pandemic.

"We believe that the Constitution calls for California to do more to accommodate religious worship, including in Stage 2 of the Reopening Plan." pic.twitter.com/8A4D95QKxs

— KerriKupecDOJ (@KerriKupecDOJ) May 19, 2020
Eric Dreiband, the assistant attorney general for the Civil Rights Division of the Department of Justice said Newsom's policies effectively act as a sort of differential treatment that are unfairly singling out religious worshipers with restrictions that are not being imposed on other activities.
Dreiband said while the Department of Justice does not seek to control how California determines what should and should not be able to reopen, the department wants to make sure the state's restrictions and guidelines uphold the Constitution and federal protections for civil rights.
This comes as religious leaders across the state have heightened calls for the governor to allow them to reopen, while many others have already suggested they would reopen on their own time.
"Governor Newsom open the doors. It's way past time. We have what is needed in our community with the rise of the new pandemic of emotional, spiritual, the dire needs. We have the answer. So, Governor, open the doors."
— Rev. Larry Ihrig, founder – Celebration Church
At this time, Newsom's office has not yet responded to the letter.