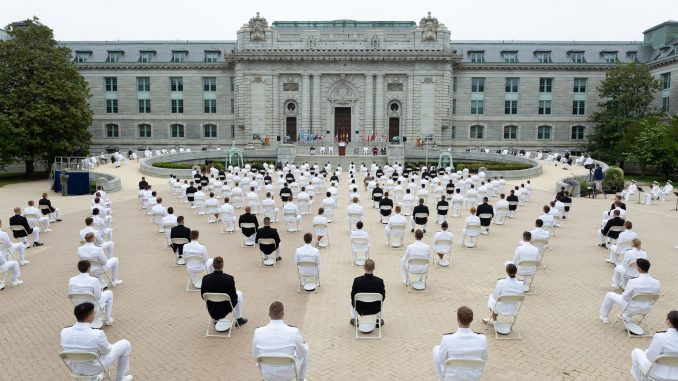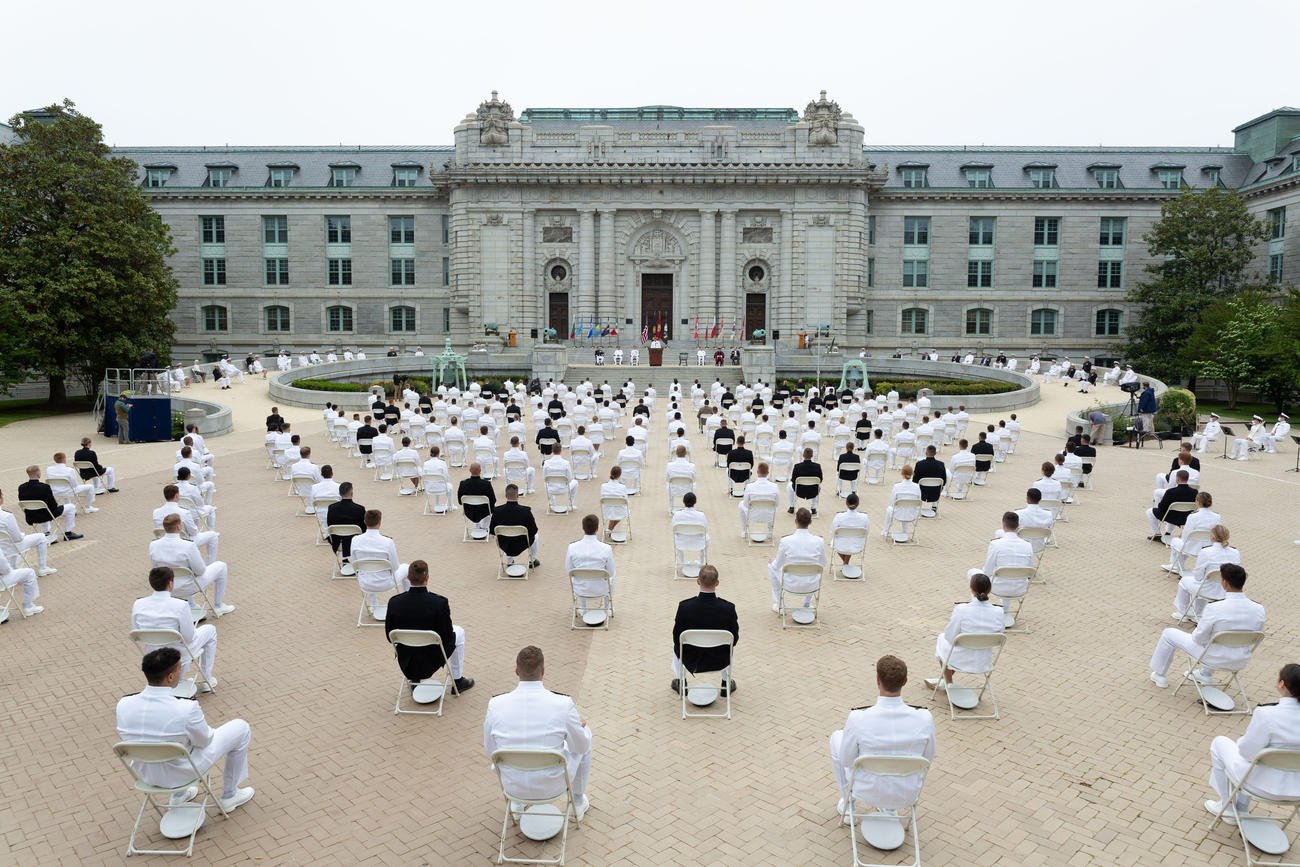 Secretary of Defense Mark Esper will give the pre-recorded keynote address to the Naval Academy's Class of 2020, academy officials announced Monday.
Friday's virtual graduation and commissioning video will begin at 2:30 p.m. with a tribute to the Class of 2020 before the streamed ceremony at 3 p.m. This is the first virtual graduation for the academy, as coronavirus precautions shut down the Yard in March.
The video will include recorded segments from five private swearing-in events held at the academy last week and on Monday and Wednesday. Groups of First Class midshipmen returned to the academy last week for the first time since they left for spring break to move out of the dorms in Bancroft Hall and privately be sworn-in in uniform.
Esper graduated from the Military Academy and later retired from the U.S. Army in 2007 after spending 10 years on active duty and 11 years in the National Guard and Army Reserve. He was sworn in as the 27th Secretary of Defense on July 23.
Related: Army Defends Decision to Have West Point Graduation
Along with Esper, Chief of Naval Operations Adm. Mike M. Gilday and Vice Chief of Naval Operations Adm. Robert P. Burke; Commandant of the Marine Corps Gen. David H. Berger; Naval Academy Superintendent Vice Adm. Sean Buck; Class of 2020 President Midshipman Mike Smith and Gov. Larry Hogan will also give remarks.
The late Midshipman David Forney will be honored in the ceremony. A seat in the first swearing-in event was occupied by a football helmet from the 2019 Army-Navy Game, placed in the Walkersville resident's memory. He would have commissioned as an ensign and cryptologic warfare officer.
The 22-year-old football player was found unresponsive in his dorm room Feb. 20 and later pronounced dead. His cause of death is still pending with the Office of the Chief Medical Examiner.
The ceremony will be streamed at watchstadium.com/live/us-naval-academy-graduation. An archived video will be available after the broadcast.
To mark commissioning, a Naval Academy Class of 2020 flag will fly atop the Maryland State House building. The flags have been waving around downtown Annapolis since April.
The academy has been criticized for separating midshipman for swearing-in and turning commissioning into a livestream event after other military academies kept its cadets together.
The Air Force Academy in Colorado held a scaled-down commissioning ceremony in April with Vice President Mike Pence, but with no crowd at its stadium and cadets staying 6-feet apart. President Donald Trump announced last month that he plans to give the commencement speech during an in-person ceremony at the Military Academy at West Point on June 13.
This article is written by Selene San Felice from The Capital, Annapolis, Md. and was legally licensed via the Tribune Content Agency through the NewsCred publisher network. Please direct all licensing questions to legal@newscred.com.
Read more: Air Force Finally Has Plans to Test a Laser Weapon on Its AC-130J Gunship
© Copyright 2020 The Capital, Annapolis, Md.. All rights reserved. This material may not be published, broadcast, rewritten or redistributed.