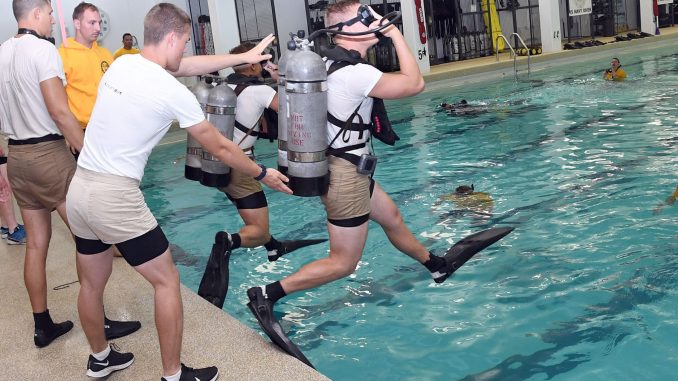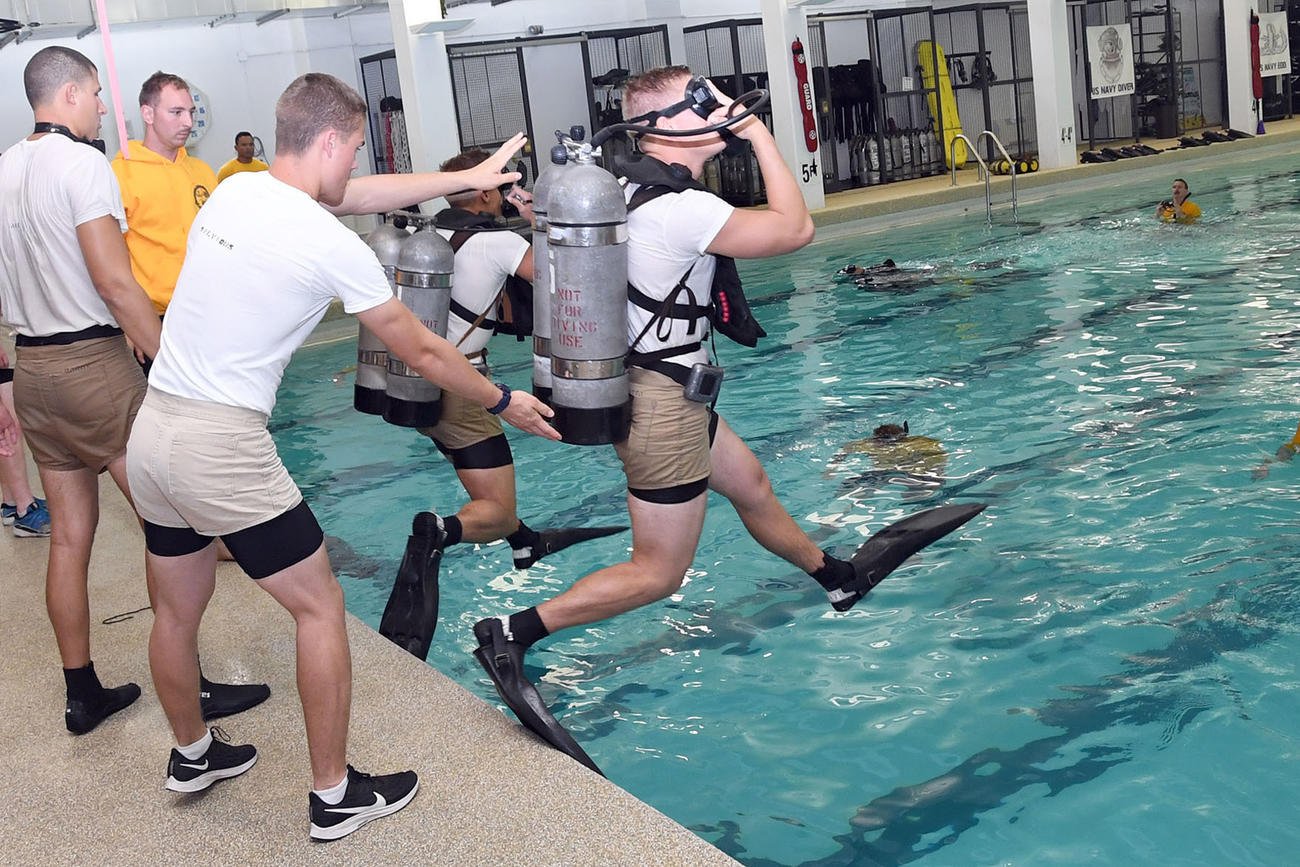 The Navy is adding new cognitive enhancement techniques and eyeing performance-tracking systems akin to those used in pro sports for two job communities requiring high degrees of strength and precision.
Officials at the Naval Diving and Salvage Center in Panama City, Florida, are finishing work on a $2 million, 15,000-square-foot tactical performance laboratory, to be complete by the end of the month, that will provide explosive ordnance disposal technicians and Navy divers with access to a new cadre of professionals — all focused on boosting what the center's Human Performance director calls "the human weapon system."
Related: Sailors on Sidelined Carrier Get Virus for Second Time
In addition to performance dietitians and cognitive therapists with a background in sports psychology, the center will house strength and conditioning specialists, kinesiotherapists and a data analyst.
The goal of this effort is to prevent injuries, exhaustion and breakdown, both mental and physical, that have been a common casualty of these high-stress, high-intensity jobs.
"Dive school has always been a place where folks were tested," Cmdr. Sam Brasfield, commanding officer of NDSTC, told Military.com. "But it wasn't always a place where — they came here as athletes and they might have got a little stronger, but it wasn't as structured as it needed to be. It was all tribal knowledge."
Unlike in other services, Navy EOD techs also complete dive school, as they might be required to execute underwater tasks such as mine removal.
The concept of taking a more holistic approach to fitness for certain high-powered military jobs gained notable momentum under Navy Adm. William McRaven, who commanded U.S. Special Operations Command from 2011 to 2014. NDSTC created its own Tactical Human Performance Program in 2016, complete with a smaller 5,000-square-foot training center. But as SOCOM officials pursue an increasing range of options to supercharge human performance, from supplements and electric brain stimulation to meditation, the Navy dive community is also intensifying efforts to strengthen bodies and minds.
Roughly six months ago, Brasfield said, NDSTC completed a classroom pilot program called Mission-Based Resilience with about 15 enlisted and officer students, focused on developing and improving a healthy mindset. In the eight-week course, students practice techniques on how to calm their minds down and maintain poise under pressure.
"We've taught visualization … practicing your emergency procedures prior to having to use them, you know, you can rehearse it in your head hundreds of times. But we've never really discussed exactly what visualization is, why it works, how it works, and then giving it to them. So we're doing more of that up front," Brasfield said.
While the pilot course was taught by a contractor, the center is now working to develop its own curriculum that will eventually be part of the training load for all students.
Another human performance enhancement tool that may soon be available to the 1,300 EOD techs and divers who cycle through the center every year is Smartabase, an athlete data management system used by professional sports teams to prevent injury and assess individual performance breakdowns that require attention or rehabilitation. If the center can pull together the resources, it may use wearable devices, such as heart rate monitors or other smart trackers, to gather a more comprehensive picture of sailors' conditioning and performance.
"Maybe you're noting, 'Hey, you only got four hours of sleep a night, you know, you've got to get at least eight,'" Air Force Lt. Col. Sean Wilson, the center's Human Performance Director, told Military.com. "So you try to help them with their habits and with other things to help bump that sleep time up. So there are aspects of this program, we can identify readily some deficit and try to help them with those behavior modifications."
Meanwhile, Brasfield said, staff may improve data collection on the fitness assessments administered when divers and EOD techs arrive at the center and when they leave, allowing them to assess not only whether an individual passed or failed, but how recent scores compare to historical ones, and whether performance is in any way off-target.
The sticking point currently is funding: While the Navy found room in its military construction budget for the new training center, the staff is contracted or on loan from the other services. Brasfield said he is hopeful the service will find the funding to sustain an effort that purports to make warriors not only stronger but also more mentally tough and resilient.
"At the end of the day, we are the nation's spear," Wilson said. " … So that's the goal here, is to maximize the lethality of the men downrange, while we're taking care of them in the process, and even after they take the uniform off and retire."
— Hope Hodge Seck can be reached at hope.seck@military.com. Follow her on Twitter at @HopeSeck.
Read more: SecDef Keeps Military Stop-Movement Order in Place After Review
© Copyright 2020 Military.com. All rights reserved. This material may not be published, broadcast, rewritten or redistributed.