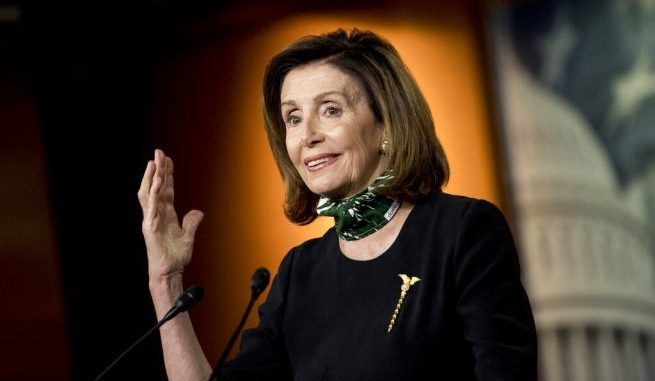 OAN Newsroom
UPDATED 9:08 AM PT — Monday, May 18, 2020
House Speaker Nancy Pelosi appeared to have a change a heart on her sense of urgency to pass coronavirus relief legislation. During an interview Sunday, she urged the Senate to pass the $3 trillion relief bill approved by the House Friday despite Senate Majority Leader Mitch McConnell describing the bill as "dead on arrival."
"Times is very important…setting aside how we got here, we cannot take a pause," she stated. "They may think it's okay to pause, but people are hungry across America…hunger doesn't take a pause."
Senate lawmakers claim there are too many "unrelated" provisions in the package and called for a pause on more stimulus funds. They are, instead, encouraging states to begin a phased reopening of the economy, so Americans can get back to work.
Pelosi's newfound sense of urgency is quite different than her approach to passing the first coronavirus relief bill in March. Democrats in Congress delayed the legislation, which sparked a heated debate with McConnell who accused them of pushing a political agenda rather than addressing the health crisis at hand.
During this phase of relief, it appears House Democrats are playing the same game, but this time with $3.6 billion in funding for states to implement mail-in ballot systems. This is something Pelosi has expressed could be the future of voting in the U.S.
Republicans, including President Trump, have been critical of the legitimacy of mail-in ballots and have suggested they could rig elections.
Press Secretary Kayleigh McEnany echoed the president's concerns of voter fraud earlier this week by saying House Speaker Pelosi was "exploiting the crisis and pushing for mass mail-in voting even though we know it's more susceptible to voting fraud."