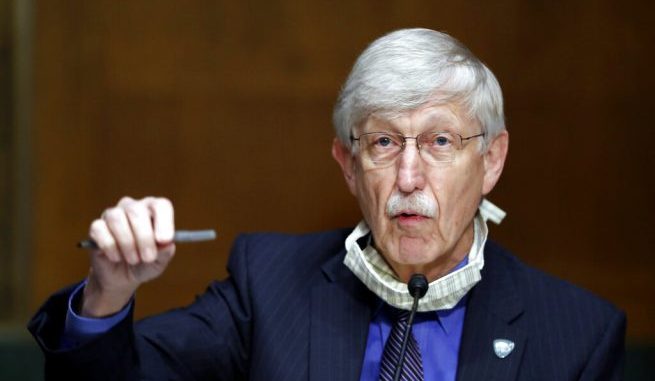 OAN Newsroom
UPDATED 2:38 PM PT — Friday, May 15, 2020
National Institutes of Health (NIH) Director Dr. Francis Collins is gearing up for a master experiment to find a coronavirus vaccine.
"This has brought together all of the players to try to speed up the process of getting that vaccine tested, figuring out whether it's safe and effective, then getting it to the public," stated Collins. "Everybody recognizes that's got to be the highest priority right now."
Two of the most promising vaccines are set to begin large scale testing in the coming months.
"I think we will see, as soon as July, the large scale trials beginning to get underway for at least one, maybe two, of the vaccines that are furthest along," he added.
The NIH has launched a large partnership called "Accelerating COVID-19 Therapeutic Interventions and Vaccines" (ACTIV) to speed up the process. The group includes government agencies, non-profits and some of the largest drug makers in the world.
"It's a horse race: If you want to learn from every horse, you hope a lot of the horses win, but you don't want this to be happening in a vacuum," explained Collins. "That's what ACTIV is able to do, is to provide that kind of framework, what we call a harmonized master protocol."
Roughly a dozen possible vaccines are in the early testing stages or set to begin throughout the world. According to Collins, proving they work will require tests in places where the virus is still spreading. He noted the NIH can open test sites in the U.S. or other countries.
"All of that can only happen with the hardest work, the best science, the best thinking about preparation," stated the NIH director. "That's why we're doing all this manufacturing work ahead of time, because otherwise you'd never be able to make that many doses at the last minute."
The doctor emphasized having a COVID-19 vaccine by January, or for emergency use in the fall, is "a stretch goal" and said all hands will need to be on deck.
RELATED: President Trump Unveils New Vaccine Effort 'Operation Warp Speed'