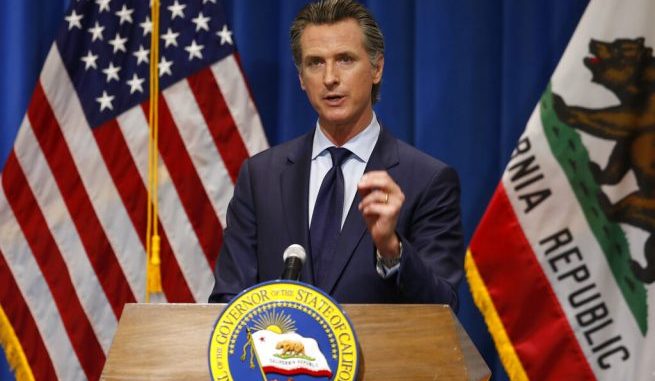 OAN Newsroom
UPDATED 5:20 PM PT — Thursday, May 14, 2020
California Governor Gavin Newsom has proposed cutting more than $6 billion from a variety of programs as the state's revenues continue to plummet. During Thursday's press briefing, the governor laid out his proposal to tackle a projected $54 billion deficit in the Golden State's budget.
The proposals included canceling billions in spending increases, a 10 percent pay cut for all state workers and utilizing the "rainy day fund."
"So we are committing in the documents we're putting out here today to use all of the $16.2 billion in the rainy day reserve, but do it over a three year period. No matter what we do this year, it won't be enough to address the shortfall next year. We have to be mindful of our responsibility to balance the budget every year." – Gavin Newsom, Governor of California
In this crisis, CA must adopt a balanced budget that protects our people and progress.

That means protecting our core values: public health, public safety, public education — and those hit hardest by #COVID19.

But we cannot do this on our own.

— Gavin Newsom (@GavinNewsom) May 14, 2020
The governor confirmed he will eliminate a controversial plan to provide health care coverage to immigrants living in the country illegally.
Newsom has also ramped up efforts to tackle the state's upcoming wildfire season, despite the high cost of containing COVID-19. Earlier in the week, he promised to increase funding for first responders by $170 million.
According to the governor, the money will help sustain recent changes to protocol for fighting fires and handling evacuations. So far, the state has experienced 60 percent more fires than last year.
"We're focused on coronavirus mitigation, trying to do our best to suppress the spread," said Newsom. "At the same time, we've got to mitigate and suppress these fires as we move into wildfire season."
Gov. Gavin Newsom said on Wednesday that California's response to the COVID-19 pandemic has not blunted efforts to prepare for what is expected to be an active wildfire season. pic.twitter.com/ycVts2HIi5

— Los Angeles Times (@latimes) May 13, 2020
READ MORE: California Governor Slashes Budget In COVID-19 Economic Crisis