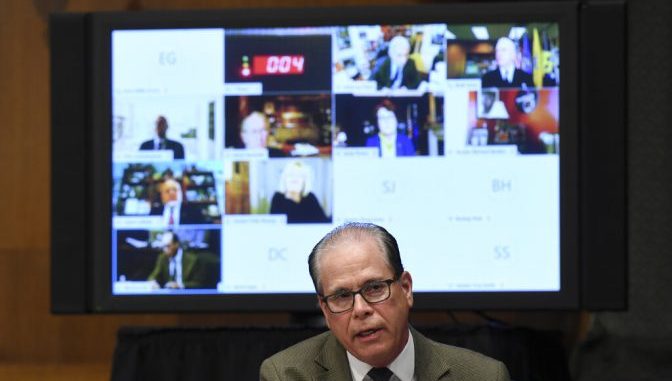 OAN Newsroom
UPDATED 12:35 PM PT — Wednesday, May 13, 2020
Sen. Mike Braun (R-Ind.) has blocked a 17-page resolution that called for the release of the CDC's guidance on reopening businesses.
The senator made the announcement on Wednesday after Senate Minority Leader Chuck Schumer (D-N.Y.) said the president "cannot be trusted to tell the truth" about COVID-19.
In the Rose Garden at the White House, President Trump said we have met the moment and prevailed.

With over 1.3 million infected and over 80,000 American fatalities?

With more than 30 million unemployed?

A stunning disregard for the truth. We need to act big and bold now.

— Chuck Schumer (@SenSchumer) May 12, 2020
He called out Schumer for trying to add roadblocks to "shutter the economy" using the CDC's "over-prescriptive guidelines."
"Sen. Schumer wants to release the CDC version of the reopening guidance," said Braun. "The White House and senior health officials have rejected the initial CDC recommendations in that version, because the recommendations were overly prescriptive, infringed upon religious rights (and) risked further damaging the economy."
We lost about 40 days out of the gate when the CDC wanted to do its own test: that's the bureaucracy @realDonaldTrump has run into and that's what we've been dealing with. pic.twitter.com/xk6JzWNES7

— Senator Mike Braun (@SenatorBraun) May 13, 2020
The senator later touted President Trump's deregulatory agenda as an "immediate success" in leading the country's testing and noted he quickly took action to flatten the curve in the U.S.
MORE NEWS: CDC Director: Reopening Guidelines Had Not Been Approved, They Were Shared Prematurely