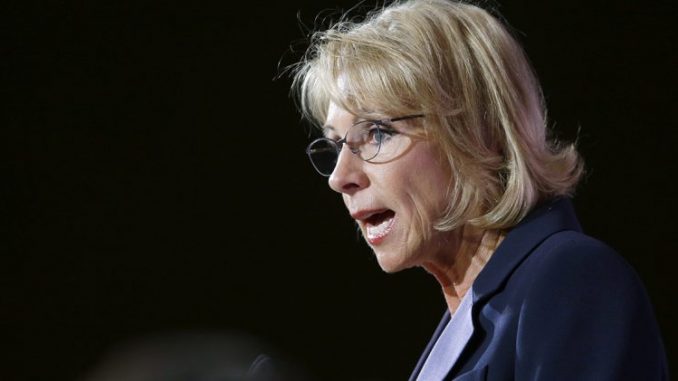 OAN Newsroom
UPDATED 10:14 AM PT — Thursday, May 7, 2020
The Department of Education rolled out long awaited changes to the guidelines for how K-12 schools and universities tackle sexual assault cases. Education Secretary Betsy Devos went over some of the finer points of the new rules Wednesday.
First and foremost, Devos' plan does away with more lenient Obama-era rules she said encourages schools to forgo due process for the accused. She said these changes balance the scales and give schools more power to weed out false claims.
"No student's learning journey should include surviving sexual misconduct, no student should be made to feel alone or abandoned by there school," she stated. "No incident should ever be swept under the rug and no student or teacher should be punished before evidence proves responsibility."
A new policy added will allow the accused to engage their accuser through a mediator during live campus hearings, where both sides will have an equal chance to lay out their claims. Students will be able to bring their own advisers, which can include outside lawyers and will allow both side to cross check any presented evidence.
"Under our rule survivors are empowered to make themselves heard and to then determine the kind of school-level response that will best support their needs," Devos explained. "This approach protects them from suffering trauma all over again."
To all of our outstanding teachers across the country, Happy National #TeacherAppreciationWeek! This Administration is so grateful for all you do to support, encourage and inspire our nation's students! pic.twitter.com/MKDRX274xr

— Secretary Betsy DeVos (@BetsyDeVosED) May 6, 2020
The guidelines also require schools to take a more active role in investigating claims of stalking, domestic violence and dating violence. For the first time ever, universities will be required to investigate claims that occur off-campus in university housing, recognized fraternity and sorority houses or any location where school sanctions activities have taken place.
Any schools caught violating the rules risk losing federal funding. The new changes are set to take effect on August 14.