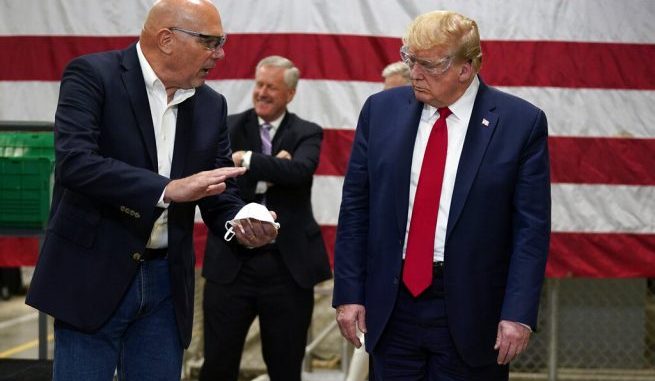 OAN Newsroom
UPDATED 7:11 AM PT — Wednesday, May 6, 2020
President Trump made his first major trip out of Washington since the beginning of the coronavirus pandemic. He boarded Air Force One on Tuesday and headed to Phoenix, Arizona to support Native Americans and tour a manufacturing plant of industrial tech giant Honeywell International.
The Honeywell facility is currently being used to produce N95 respirator masks for health care workers on the frontlines of the pandemic. During his visit, the president praised the factory workers and thanked them for stepping up to the plate to create additional protective equipment to aide in the fight against COVID-19.
"Like generations of patriots before you, the workers of this factory are pouring their heart and their soul and their blood into defending our nation, and keeping our people healthy and safe," said President Trump. "You make America proud, you really do, and I want to thank you very much — that's why I'm here."
Thank you @Honeywell! pic.twitter.com/4jH6NF63XI

— Donald J. Trump (@realDonaldTrump) May 6, 2020
The president also touted the U.S.'s progress in battling the coronavirus, adding that with the outbreak beginning to let up a majority of Americans will be able to get back to work in the near future.
"Thanks to the profound commitment of our citizens, we have flattened the 'curve' (of virus spread) and countless American lives have been saved," he stated. "Our country is now in the next stage of the battle, a very safe, phased and gradual reopening."
Later in the day, the president also participated in a roundtable discussion on supporting Native Americans, where he signed a proclamation that aims to bring awareness to violence in tribal communities.
" The administration is deploying the full resources of the federal government to support and protect our Native American communities in this very grave time of need,"  the president announced.
His visit may have political implications as well as Arizona is seen as a key swing state in the 2020 election.
"I'm thrilled to be here in the fantastic state of Arizona, I love Arizona," he stated. "…I've had some good moments here, especially on Election Day. "