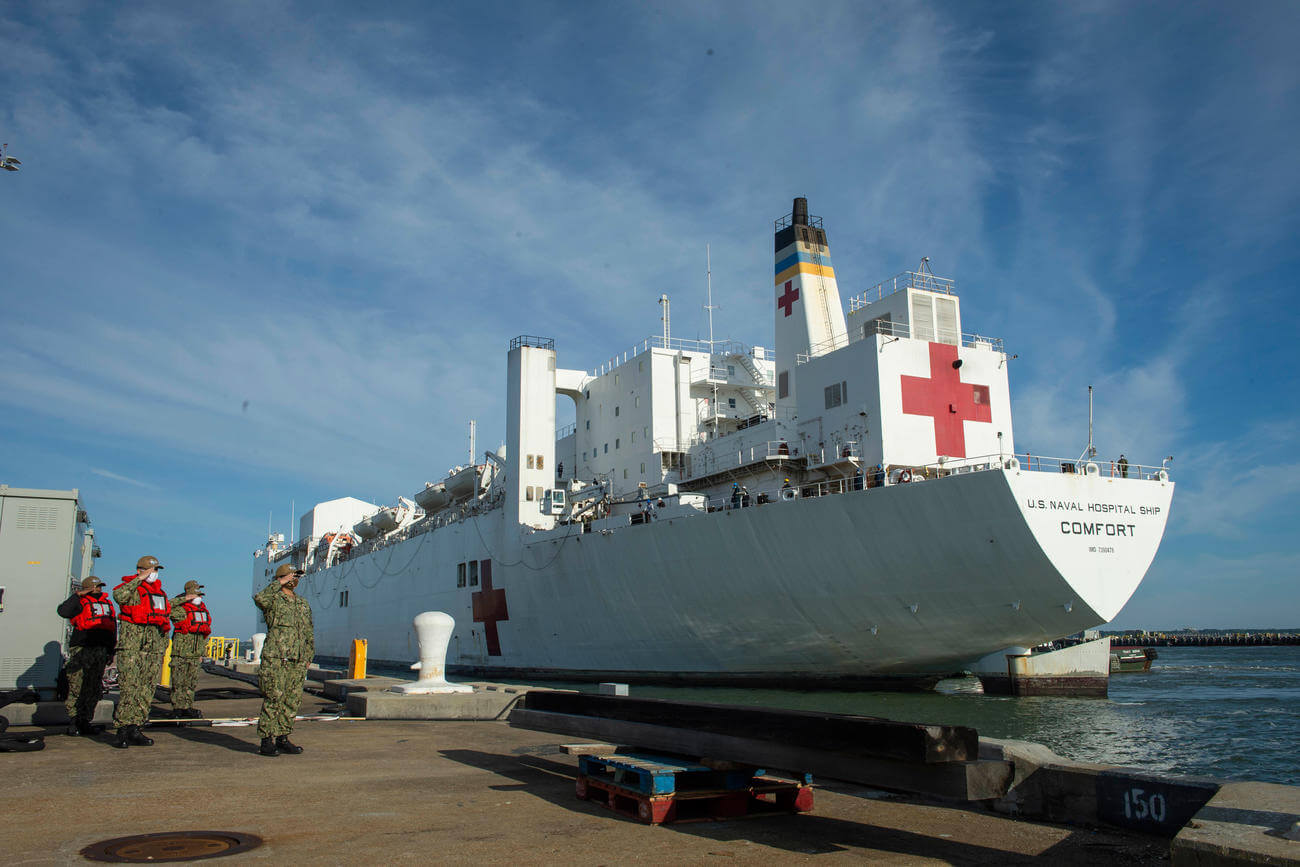 Most homecomings see a tightly-packed throng of families crowding the gate at the end of the pier, waving signs and waiting for a loved one to finally step off the ship.
Instead, the USNS Comfort sidled up to Pier 12 at Naval Station Norfolk to no fanfare at all. Any spouses or kids there to pick up mom or dad were relegated to their cars to maintain social distancing.
The hulking white hospital ship emblazoned with red crosses spent the last month in New York City, serving as an overflow hospital as the city battles an expansive coronavirus outbreak that has left more than 13,000 there dead.
The Comfort arrived home to Norfolk early Saturday morning after spending late Friday moored just outside Hampton Roads Harbor while the ship was disinfected and the crew tested for the virus.
The ship treated 182 patients while in New York, commanding officers said Saturday, about 70% of which were highly acute coronavirus patients.
Related: Navy Hospital Ships, Once Thought Critical, See Few Patients
"We saw everything that (New York hospitals) saw," Capt. Patrick Amersbach, who commands the Comfort's medical personnel, said Saturday. "We were the busiest ICU in the Department of Defense over the past month."
They had 25 patients on ventilators and cases with multiple organ failure, necessitating a lot of one-on-one attention from the ship's medical staff, Amersbach said.
Many of the nearly 1,200 sailors returning on the Comfort may not even be going directly home after they disembark Saturday.
Capt. Joseph O'Brien, the mission commander of Task Force New York City, said Saturday that every sailor leaving the ship will spend the next 14 days under quarantine based on guidelines from the Centers for Disease Control, including having their own room in which to sleep and maintain appropriate social distancing.
Some can abide by those guidelines at home, while those who can't will be put up in a hotel or barracks by the Navy for 14 days, at the end of which they will be tested again, O'Brien said.
Instead of eager husbands and wives waiting with toddlers and new babies, a caravan of white buses were lined up at the end of the pier to cart crew members off to their quarantine quarters.
"It's different, yeah, but everything's different," O'Brien said of the muted homecoming.
This article is written by Ryan Murphy from The Virginian-Pilot and was legally licensed via the Tribune Content Agency through the NewsCred publisher network. Please direct all licensing questions to legal@newscred.com.
Read more: Army Probe Calls For New Procedures After Deadly Ranger Parachute Accident
© Copyright 2020 The Virginian-Pilot. All rights reserved. This material may not be published, broadcast, rewritten or redistributed.