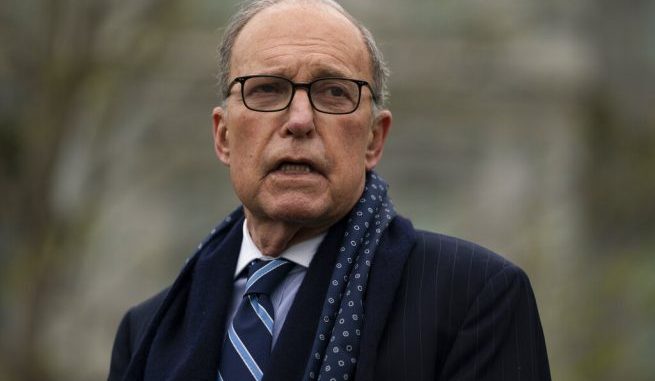 OAN Newsroom
UPDATED 10:41 AM PT — Sunday, May 3, 2020
The director of the National Economic Council has said the U.S. will likely see a "very strong economic rebound" next year. On Sunday, Larry Kudlow noted although the economy doesn't look great now, experts are optimistic it will soon bounce back.
However, he refrained from saying whether states should receive additional funding from the federal government for COVID-19 related financial woes. The adviser instead suggested we look to see how states are doing once we reopen the economy.
"We're trying to get from one side to the other, we're trying to work through this. I don't want to rule in or out anything right now. We are in discussions internally and with leading members of Congress."
– Larry Kudlow, Director of the National Economic Council
He added economic forecasters have been looking ahead to 2021, saying it "could be one of the fastest growth rebounds in American history."
In the meantime, Senior Economic Adviser Kevin Hassett has said the White House is waiting to see the economic impact of states reopening to determine what the next phase of relief will be. According to Hassett, if the economy is strong enough, Paycheck Protection funds won't need to be revisited and the administration will move on to a 'phase four' deal on "growth and recovery."
He confirmed President Trump is willing to negotiate this deal, but noted fixing long-term problems for states is off the table.
"He's absolutely opposed to bailouts. He doesn't want to fix 25-year-old problems and use the COVID disaster, really, as an excuse to do that. I think he's going to be completely open to looking at what the costs are that people incur because of COVID, like the extra costs to first responders and so on, and to make sure that the states are helped with those things." – Kevin Hassett, White House Economic Adviser
Hassett added a 16 to 19 percent unemployment rate is expected, but he believes this is only temporary because of the shutdown and could reverse "relatively quickly."
MORE NEWS: Kudlow: Businesses Not To Blame If Customers Claim To Contract COVID-19, Unless Grossly Negligent