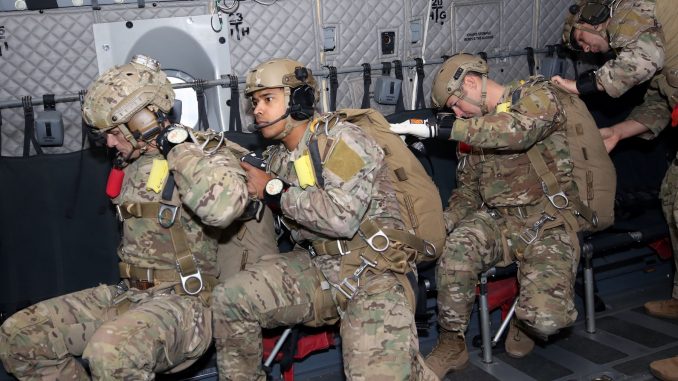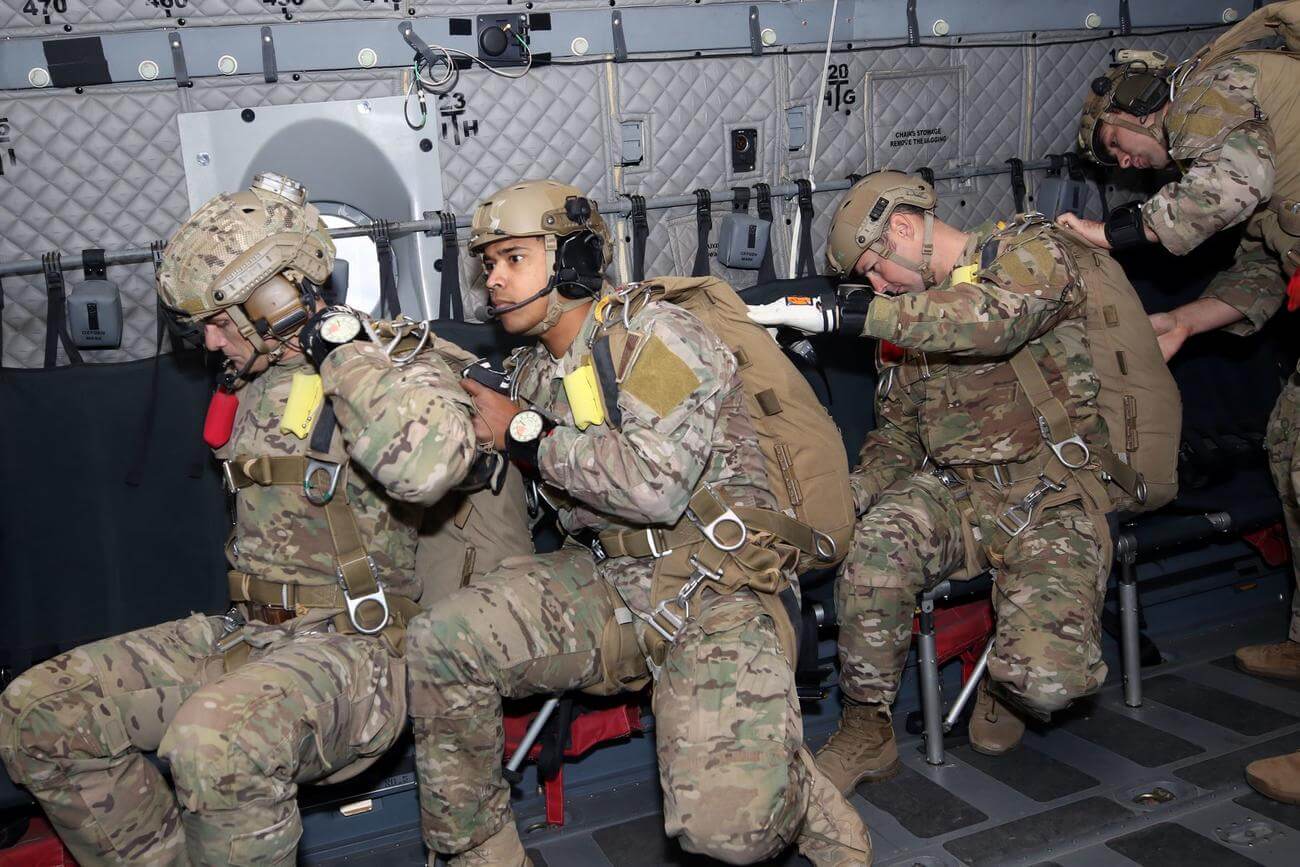 The 75th Ranger Regiment should review its oversight of civilian-contracted parachute packers and implement several procedural changes following a March 2019 free-fall accident that killed a seasoned member of the elite Army unit, an investigation into the incident has determined.
In the pre-dawn hours of March 15, Sgt. 1st Class Ethan Carpenter and his fellow Rangers were jumping with full combat equipment, oxygen masks and night vision goggles. After exiting the aircraft, one jumper experienced a parachute malfunction and then collided with Carpenter, who was then seen parachuting in the wrong direction into the trees surrounding the drop zone in Arizona, according to the report, obtained by Military.com.
Military Times was first to report the findings of the investigation.
The report does not say whether Carpenter was conscious after the collision.
Related: Army Ranger with 8 Combat Deployments Dies in Free-Fall Jump
Carpenter was pronounced dead at the scene where he landed after his fellow Rangers finally found him nearly two hours later, according to the investigation report.
The jumper that collided with Carpenter experienced a partial malfunction known as "premature break line release" that "could cause a jumper to immediately enter into a violent turn in one direction," the investigation states.
The jumper, who is not named in the report, "performed corrective action exactly as briefed upon identifying the malfunction and is at no fault."
But by the time he corrected his malfunction, it was "already too late," and he could not avoid colliding with Carpenter, the investigation states.
The investigator, whose name was redacted, points out that while there was an initial inquiry to find out who packed the malfunctioning parachute, there was no follow-up investigation.
"There is no deeper investigation into the packing procedures and rigger checks associated with the packing of a parachute," investigators wrote.
"While the training, qualifications, certification, and level of experience of the riggers and civilian packers involved in parachute packing for this training is well documented … based upon my experience it seems highly unlikely that a brake line would spontaneously come unstowed … had a parachute been packed and checked to standard."
U.S. Army Special Operations Command G3 and Ranger Regiment riggers associated with military freefall training and operations "should review internal procedures and processes to determine whether additional controls, procedures or checks should be implemented when overseeing the parachute packing work of civilian contracted parachute packers," the report states.
USASOC Commander Lt. Gen. Francis Beaudette directed the Ranger Regiment to follow the investigation's recommendations intended to improve procedures for dealing with "off-drop zone landings," which in this case resulted in Carpenter's death, the report states.
In the future, all jumpers conducting free-fall training operations will be required to carry radios, according to one recommendation.
"Had all jumpers jumped with radios and utilized communications under canopy (as they would in combat), the jumpers in the stack and potentially those monitoring on the drop zone might have realized that SFC Carpenter was unresponsive when he did not check in over the radio upon deploying his canopy," the investigation states.
Medical experts concluded that Carpenter would not have survived his injuries, but the report recommends that the RRC leadership should ensure that it has a written standard operating procedure for off-drop zone jumpers "particularly for jumps conducted during hours of limited visibility when determining the state of a jumper under canopy is made more difficult by darkness," the investigation states.
Leaders should also consider "immediately activating a medical vehicle to follow a jumper conducting an off-drop zone landing from the moment his actions are noted until he lands," the report states.
Two jumpers in Carpenter's stick observed him flying away from the drop zone, but did not attempt to follow him, the report states.
Leaders should ensure off-drop zone landings procedures are always mentioned as a part of each pre-jump briefing, since any "off-drop zone landing during a period of darkness should be considered a potential emergency and responded to as such," investigators wrote.
"It is the overwhelming medical opinion of the experts who reviewed this case that SFC Carpenter likely would have expired from his injuries even if medical interventions had been performed immediately, the report states. "However, had SFC Carpenter's injuries been less severe and potentially survivable, the nearly two hours it took RRC personnel to locate him and begin treatment may have made the difference between life and death."
— Matthew Cox can be reached at matthew.cox@military.com.
Read More: Navy's New Frigate Will Be Based on Italian Ship With 'Officer-Quality' Staterooms
© Copyright 2020 Military.com. All rights reserved. This material may not be published, broadcast, rewritten or redistributed.