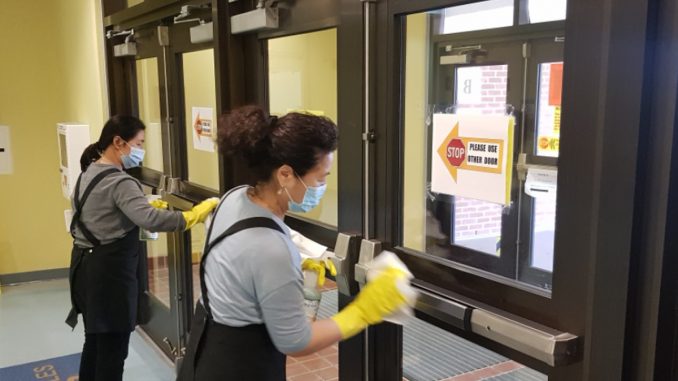 KAISERSLAUTERN, Germany — All of the Defense Department's schools will close their doors for the remainder of the school year with the possible exception of those in South Korea, officials said Friday.
"In direct and close coordination with our senior military partners, the decision was made to keep school buildings closed to students for the remainder of the 2019/2020 school year and to maintain digital teaching and learning in all DODEA schools across the world," Department of Defense Education Activity Director Thomas Brady said in a letter to staff Friday.
In South Korea, where conditions have "improved considerably," schools could reopen "in the coming weeks" while DODEA and U.S. Forces Korea assess the coronavirus risk, Brady said.
DODEA schools in South Korea closed Feb. 26 because of the virus outbreak. Schools in Japan, including Okinawa, shut their doors on March 23, after a surge in coronavirus cases there.
The agency's 162 schools overseas and in the U.S. will continue the online program put in place to ensure the continuity of education, Brady said.
In a separate announcement Friday, DODEA-Europe cited safety concerns and the short amount of time left in the school year as reasons for closing their schools.
"We know that this decision is disappointing to our staff, students and families alike," DODEA-Europe spokesman Stephen Smith said in a statement.
"While some host nations are making decisions to slowly open up aspects of their economies, given the relatively short amount of time remaining in the current school year, DODEA and military leadership agree that this was the prudent decision for our schools.
"The health and safety of our staff, students and communities is our highest priority."
The Pentagon operates 66 schools across Europe.
DODEA schools in Italy closed Feb. 24, followed by Bahrain two days later. DODEA shuttered its schools in Germany, Belgium, the Netherlands, Turkey and Spain on March 16. Those in the United Kingdom closed later that month.
The DODEA decision Friday came as some countries in Europe look to slowly reopen their schools, crediting social distancing and lockdown measures for reducing the virus's spread.
Germany plans to reopen classes in stages for all grades by the summer holidays, with measures being considered on how to safely start up lessons again, such as employing smaller learning groups or a rotating schedule for different students or grades.
Germany's federal states stagger their summer holidays, with the earliest beginning in the middle of June and the latest ending in mid-September.
DODEA-Europe's school year is scheduled to end June 9 as originally planned, Smith said.
Graded instruction, however, may end sooner and that could vary between schools and even individual classes, Smith said.
No new assignments or assessments will be administered the last two weeks of school, DODEA said in an April 24 memo.
The time will be set aside for students to finish all work, and for reinforcement and enrichment activities, according to the policy, aimed at helping those struggling with home studies and other difficulties, the agency said.
Students will also receive the higher grade from the last two quarters of the school year for their semester grade.
But pupils still need to make an effort to complete their assignments, officials said Friday.
"We have had some students inquire if the policy means that they could 'opt out' of Quarter 4 and just take their Quarter 3 grades for their semester grade," Ramstein High School Principal Sharon O'Donnell said in an email to parents. "The answer is no. There is no 'opt out' in the policy."
This article is written by Jennifer Svan from Stars and Stripes and was legally licensed via the Tribune Content Agency through the NewsCred publisher network. Please direct all licensing questions to legal@newscred.com.
© Copyright 2020 Stars and Stripes. All rights reserved. This material may not be published, broadcast, rewritten or redistributed.