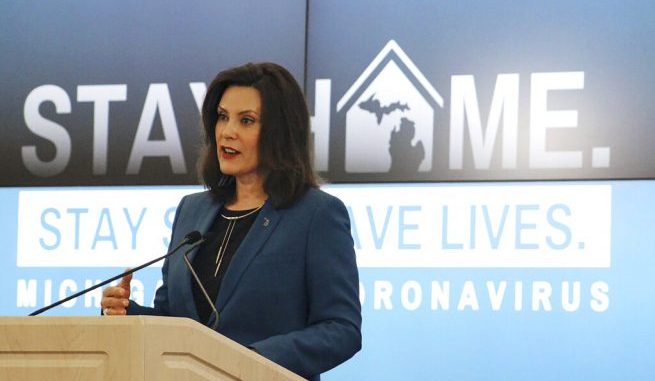 OAN Newsroom
UPDATED 12:40 PM PT — Friday, May 1, 2020
Governor Gretchen Whitmer has signed an executive order to extend Michigan's state of emergency. In a statement Thursday, Whitmer extended the state's emergency and disaster declaration after it was originally set to expire on Friday.
"Although we are beginning to see the curve flatten, we are not out of the woods yet. We must all continue to be diligent, observe social distancing and limit in-person interactions and services to slow the spread of COVID-19. Michigan now has more than 40,000 cases of COVID-19. The virus has killed more Michiganders than we lost during the Vietnam War. Extending this order is vital to the health and safety of every Michigander. If we work together and do our part, we can help reduce the spread of COVID-19 and save lives." – Gretchen Whitmer, Governor of Michigan
Stay Home. Stay Safe. Save Lives. @MichiganHHS reports today, April 30, 2020, 980 new COVID-19 cases & 119* deaths. For * details see https://t.co/2tAAcYRyCj. #Michigan's total cases are now 41,379 & 3,789 deaths. Find the latest data & #COVID19 news at https://t.co/niRBexCYOy. pic.twitter.com/gyFuVRBIZH

— Michigan.gov (@migov) April 30, 2020
The move came despite major pushback from GOP legislators, who voted to authorize a lawsuit challenging Whitmer's recent actions. A state judge recently cleared the way for Whitmer by shooting down their lawsuit, which claimed the restrictions were unconstitutional.
The Democrat governor defended her decision and called out Republican lawmakers for "putting more lives and livelihoods at risk."
"It doesn't matter what crisis there is, you only have the power that you have and you can't take more," she stated. "If people are going to die, I'm sorry, you only have as much power as you have."
Michigan's stay-at-home order has been extended until May 28th.
A local Republican leader slammed the governor on social media following this announcement. In a Facebook post, Sen. Mike Shirkey (R-Mich.) claimed Governor Whitmer is "drunk on the addiction of unfettered power" and acted "unilaterally" to lock down Michigan's economy culture and society.
Shirkey went on to say Whitmer has a complete disregard for the law and will mark April 30th as a day that will "last in infamy."
More Shirkey: "With breathtaking disregard for the law, our Governor took an action yesterday which will memorialize Michigan's spot in dubious, embarrassing history." https://t.co/C4aNwqzbUW

— Jonathan Oosting (@jonathanoosting) May 1, 2020
President Trump has since called on Governor Whitmer to ease up on some of her state's coronavirus restrictions amid lockdown protests. On Twitter, the president said she "should give a little and put out the fire."
He added the protesters are "very good people, but they are angry and they want their lives back again safely!" The president then called on the governor to "see them, talk to them and make a deal."
The Governor of Michigan should give a little, and put out the fire. These are very good people, but they are angry. They want their lives back again, safely! See them, talk to them, make a deal.

— Donald J. Trump (@realDonaldTrump) May 1, 2020
These remarks came after armed protesters stormed Michigan's capitol building Thursday, while lawmakers were debating whether to extend the state's emergency order.
Inside the Michigan Capitol right now. pic.twitter.com/wuo8AXRUM4

— Leon Hendrix (@LeonHendrix) April 30, 2020