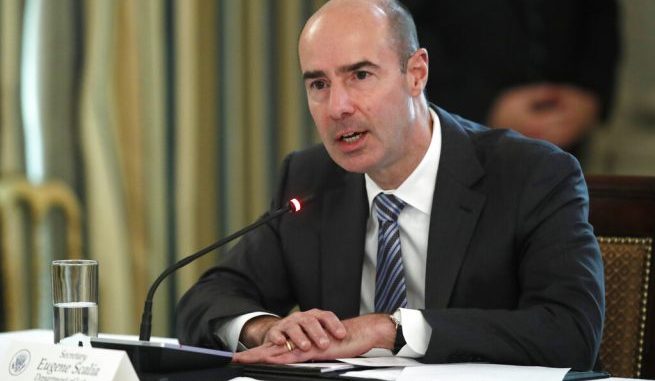 OAN Newsroom
UPDATED 2:12 PM PT — Thursday, April 30, 2020
Despite the high unemployment numbers, Labor Secretary Eugene Scalia has said there is reason for optimism.
"As difficult as it is to see this many Americans unemployed, we came into this period of unemployment by a very different path than in the Great Recession," said Scalia. "We'll go out in a different path."
The secretary went on to applaud work in Congress, touting expanded jobless benefits in the most recent stimulus package.
"What it means is that in total over last six weeks that we've been looking at, unemployment claims are at about 30 million, it's just a very high number," he stated. "The president and Congress moved very swiftly in March to address this, including with the unemployment enhancements made in the CARES Act."
He went on to commend all 50 states for now paying the increased unemployment amount and remarked that these are tough numbers. His remarks came as millions of Americans continued to file for initial unemployment benefits this week.
Economic Adviser Kevin Hassett also voiced a similar opinion, saying the drop in America's GDP does not reflect a typical recession. While speaking to reporters, he said he expects the U.S. economy to rebound sharply once the coronavirus related shutdowns are lifted.
"We've been pretty frank with the American people that the shutting of the economy is going to give us a few months of really, really startling data," added Hassett.
He cited underlying strength of the economy and a lack of long-term structural challenges to GDP growth. According to the adviser, the current GDP contraction is only a short-term downturn.
"We've been out in front of the data releases, explaining exactly why the numbers are as bad as they look and why you should expect that maybe things could turn around quick," said Hassett. "Basically, we shut down in order to stop the spread of the virus, and that now we can gradually turn it back on, it's much different than a normal recession."
He stressed the latest data fell in line with earlier projections by the White House and reassured the public the government has the situation under control.