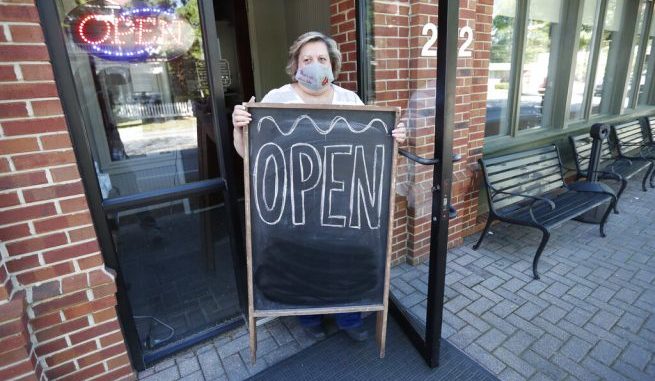 OAN Newsroom
UPDATED 6:53 AM PT — Friday, May 1, 2020
The state of Georgia is lifting coronavirus-related restrictions in what could be a blueprint for a comeback of the broader U.S. economy.
On Thursday, Gov. Brian Kemp (R) announced a plan to reopen most of Georgia's businesses, while social distancing and measures to protect vulnerable demographics remain in place. The move drew criticism by mainstream media, which has claimed Georgia may see a rise in COVID-19 cases.
"I knew we were gonna be under scrutiny when when people started opening," said Gov. Kemp. "I knew the media would be out trying to find bad actors, which they were at 7 a.m. last Friday, but thankfully what they found was people had really taken these measures very seriously."
The reopening of Georgia is taking place as a rising number of doctors have said the government should quarantine the sick instead of locking up the healthy. Gov. Kemp said that's exactly what he's doing by extending shelter-in-place for the medically fragile people through June 12.
Additionally and contrary to media projections, doctors have said such a reopening will allow Georgia to develop a herd immunity among its population and prevent a resurgence of the virus.
"We have massive data, it is not statistically significant whether you lock down or not, so why are we doing it?" asked Dr. Dan Erickson, co-owner of Accelerated Urgent Care in Bakersfield, California. "We also need to put measures in place so economic shutdowns like this does not happen again…we wanna make sure we understand that quarantining the sick is what we do, not quarantining the healthy."
President Trump was initially skeptical of Georgia's plan to reopen and said it may be happening too soon. However, the president stressed it's up to governors of states to decide and federal overreaches are unacceptable when handling the coronavirus.
"And I'm very much in favor of what they're doing," he stated. "They're getting it going and we're opening our country again. "
Georgia is now opening most of its businesses and public places, but some venues such as bars and nightclubs will remain shut until May 14. Many business owners hope this will allow them to gradually recover from the financial damage inflicted by the lockdown.
"It's heartbreaking, but you know it's gonna take time to overcome this and to get people to come back and support us," said James Smith, location owner of Chronic Tacos in Alpharetta, Georgia.
Meanwhile, a rising number of Americans are protesting ongoing lockdowns in other parts of the country. Many protesters are now pointing to Georgia as an example by saying it's about time America gets back to work in a safe and gradual manner.