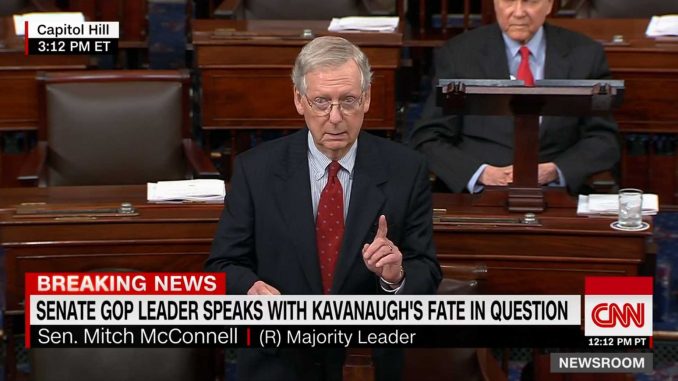 By Ryan Saavedra    dailywire.com
Senate Majority Leader Mitch McConnell slammed Senate Democrats on Monday for running a "choreographed smear campaign" against Supreme Court nominee Judge Brett Kavanaugh.
"Let me start with a quote: 'I'm going to fight this nomination with everything I've got.' That was the Democratic Leader on television mere hours after Judge Brett Kavanaugh was nominated to the Supreme Court," McConnell began.
"Others pledged their opposition before he was even named," McConnell continued.
"Before they'd reviewed a lick of evidence. Before they'd heard a minute of testimony. The Democrats had already made up their minds and chosen their tactics: delay, obstruct, and resist. Whatever it took — whatever the truth really was — they were going to do whatever they could to stop this qualified, experienced, and mainstream nominee."
McConnell said the Democrats' "far-left special interests demanded" that the Democrats "throw all the mud they could manufacture" at Kavanaugh to prevent him from getting on the Supreme Court.
Widget not in any sidebars
"Senate Democrats and their allies are trying to destroy a man's personal and professional life on the basis of decades-old allegations that are unsubstantiated and uncorroborated," McConnell continued.
"This is what the so-called 'Resistance' has become. A smear campaign, pure and simple. Aided and abetted by members of the United States Senate."
McConnell slammed Democrats for leaking allegations made by Dr. Christine Blasey Ford, who wanted "the matter be handled discretely and confidentially."
"But Democrats didn't do any of that," McConnell said. "They sat on Dr. Ford's letter for seven weeks. They kept it secret. They did nothing. They bid their time. And then they threw Professor Ford's wishes overboard and leaked it to the press."
McConnell continued by suggesting that the Democrat's actions were a "choreographed smear campaign that ignored Dr. Ford's request for confidentiality in order to inflict maximum damage at the last minute on Judge Kavanaugh."
McConnell tore apart accusations made by Dr. Ford and then ripped the New Yorker's report from Sunday, noting that it was so weak that multiple other news organizations had refused to pass on the allegations because there were no witnesses.