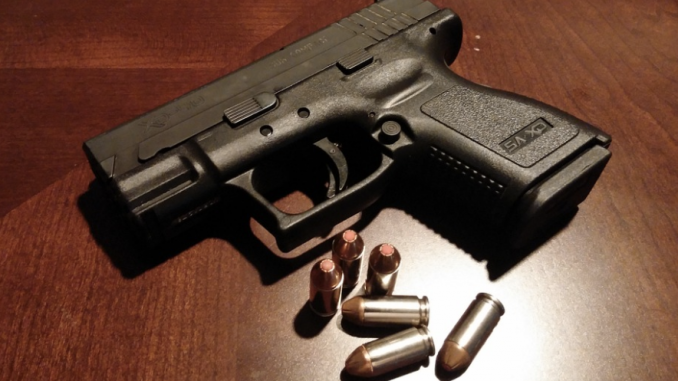 ---
Civilians in the U.S. own close to 400 million firearms, according to a new survey released this week, and the total number of firearms owned by private citizens vastly exceeds the police and military.
A report issued by the Small Arms Survey revealed that of the world's more than one billion total firearms, 393,300,000 are civilian-owned in the U.S.
By comparison, the U.S. military holds about 4.5 million guns, and state and local police have just over 1 million.
And gun ownership in the U.S. also continues to rise.
Widget not in any sidebars
According to FBI background check records, civilians purchased more than 2 million guns last month alone. In all of 2017, more than 25.2 million gun-related civilian background checks were processed by the FBI.
While U.S. citizens hold a majority of the world's firearms, researchers suggested that gun ownership around the world has continued to rise.
"At the end of 2017 there were approximately 1,013 million firearms in the 230 countries and autonomous territories of the world, 84.6 percent of which were held by civilians, 13.1 percent by state militaries, and 2.2 percent by law enforcement agencies," the survey said. "The 2017 combined global total of 1,013 million firearms is higher than the previously published Small Arms Survey global total of 875 million firearms in 2006, an increase of 15.7 percent for all identified firearms. Much of this change is due to an increase of 32 percent in the estimated civilian-held firearms total. Reported global totals for the law enforcement and military categories show net decreases, mostly due to changes in estimating Procedures."
The next closest country to the U.S. – India – claims about 70 million civilian-owned guns.
Russia's proportion of firearms weighs heavily in favor of law enforcement and the military, with totals greatly exceeding the U.S.
Moscow law enforcement claim 2.4 times as many guns as law enforcement agencies in the U.S., and Russia's military has about 6.7 times as many guns as the U.S.' own armed forces.
Research behind the Small Arms Survey stress that, while these numbers do give a pretty good estimate on worldwide gun ownership, they may not be exact.
The organization utilizes government data, United Nation reports on military statistics and various surveys conducted for private citizens.
However, illegal and unregistered firearms could still account for a significant number of guns that are not included in the data.
"Most of the world's firearms are privately owned, which makes documenting their precise number particularly challenging. Official registration totals provide the most reliable data, although they do not capture the full spectrum of firearms in civilian hands," the report said.
The Small Arms Survey organization is headquartered in Switzerland.