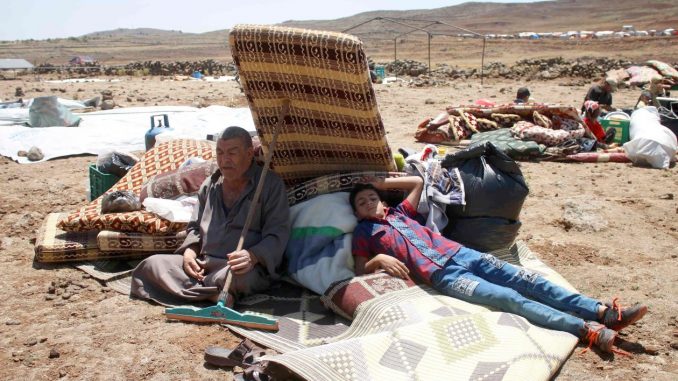 The Syrian regime's main military ally, Russia, carried out airstrikes Sunday in the country's southwest, defying a cease-fire pact with the U.S. and Jordan, as forces aligned with President Bashar al-Assad pushed to capture one of the last opposition strongholds.
The Russian strikes, which have been accompanied by regime barrel bombs and mortar shells, are the latest signs of the high-stakes military maneuvers unfolding in a volatile corner of southwest Syria. Forces aligned with President Assad have threatened a ground offensive, dropping leaflets that demand the surrender of rebels in the area. At least five civilians have been killed in the bombardment, which also destroyed a hospital and emergency rescue center, according to antigovernment activists.
For weeks, the U.S. has warned the Syrian regime not to violate a cease-fire agreement brokered last year with Russia and Jordan that stretches across the Syrian provinces of Daraa and Quneitra.
But the U.S. appears intent on not getting dragged into a confrontation between the rebels and Mr. Assad's Russian and Iranian-backed forces. On Saturday night, as Russian airstrikes were beginning, U.S.-allied rebels were told by the Americans not to expect a military intervention on their behalf, according to several rebel commanders.
The State Department expressed concern about the airstrikes and said it had been in touch with the Russian government and "parties on the ground."
"This is once again an example of Russia flouting arrangements it has entered into with no regard for civilian lives," a State Department official said.
Widget not in any sidebars
State Department officials declined to discuss details of its diplomatic conversations but noted that Secretary of State Mike Pompeo had told Russian counterpart a week ago that it was important to uphold the cease-fire arrangement. Rebel groups in Syria also protested the strikes.
"The Russian intervention is a flagrant violation of the de-escalation deal," said Saber Sifer, the political representative of one of Daraa's largest rebel groups. "They are aware that the regime is not capable of advancing on its own. The airstrikes are targeting civilians and they are trying to intimidate them," he added.
A Jordanian government official said his country will take the necessary measures to protect its security and is in contact with the all parties to achieve that.
Syria's pro-regime media said Sunday that government-aligned forces have already captured several rebel-held towns. More than seven years of war have depleted the Syrian regime's ranks, forcing President Assad to rely on his foreign allies to help claw back swaths of territory lost to rebels. Russia's direct intervention in late 2015 on behalf of the regime turned the tide of the conflict and Iranian-backed ground forces have seized on the momentum.
In recent weeks, the Syrian regime has disguised Iranian and Iranian-backed foreign fighters as its own by switching uniforms and having them raise Syrian flags, according to multiple rebel commanders and a person briefed on the matter. The battlefield feint is meant to avoid more Israeli airstrikes against Iranian targets in Syria.
U.S. officials say that it remains unclear whether the airstrikes are a prelude for a major offensive to capture the area and instead could be an attempt by President Assad to pressure the U.S. and Jordan to agree to a new diplomatic arrangement, one that would allow the Syrian regime to re-exert its control over the area without a battle.
One Western diplomat in the region said there is consensus that the regime taking control of the southwest was a foregone conclusion and that it would happen with less violence than previous opposition defeats. Battles for control of Homs, Aleppo and the Damascus suburb Eastern Ghouta were won primarily through regime sieges coupled with intense airstrikes, killing hundreds of people and resulting in humanitarian crises as food and medical supplies dwindled.
The United Nations has also warned of the humanitarian and regional effects of a battle in Syria's south, and says around 6,000 civilians have already fled their homes near the front lines.
And a summit between President Donald Trump and President Vladimir Putin is likely to happen in the coming weeks. The U.S. has told Moscow that increasing violations of the southwest cease-fire agreement wouldn't create a positive atmosphere for such a meeting.
Many of Syria's southern rebel factions once received military and logistical aid from the U.S. and its allies. Those shipments of weapons ceased when President Trump ended the covert CIA program last year.
Rebel groups have said they are still committed to the cease-fire agreement but have vowed to fight against a regime offensive.
Syrian state media accused rebels on Saturday of firing mortar shells on several government-held areas in the southwest, killing one person and causing some destruction to property.
Antigovernment fighters in the south face certain advantages compared with other opposition areas the Assad regime has captured in the past few years. Unlike the city of Aleppo and the suburb of Eastern Ghouta, rebels in the southwest aren't besieged by Syrian forces.
Widget not in any sidebars
In the months leading up to this weekend's airstrikes, Russia vowed not to carry out airstrikes in support of a military offensive in the south. But those promises appear to have been broken by the strikes, which began Saturday night while an Iranian presence in Syria's southwest threatens to inflame tensions with Israel.
In recent discussions between Israel and Russia, Israeli leaders including Prime Minister Benjamin Netanyahu have sought assurances that Moscow will keep Iran and its proxies away from its border. Yet Israel is also aware of the Iranian-backed militias disguising themselves as Syrian soldiers, raising the question of whether Israeli forces are willing to attack these positions themselves or wait to see whether the U.S. intervenes before taking military action, according to Amos Yadlin, a former head of Israeli military intelligence and now head of the Tel Aviv-based Institute for National Security Studies.
"The main question," he said, "is whether Israel will adopt a precision active approach or a passive approach."
—Suha Ma'ayeh Amman and Dov Lieber contributed to this article.
Write to Raja Abdulrahim at raja.abdulrahim@wsj.com and Michael R. Gordon at michael.gordon@wsj.com
Appeared in the June 25, 2018, print edition as 'Russia Airstrikes Break Syria Truce.'