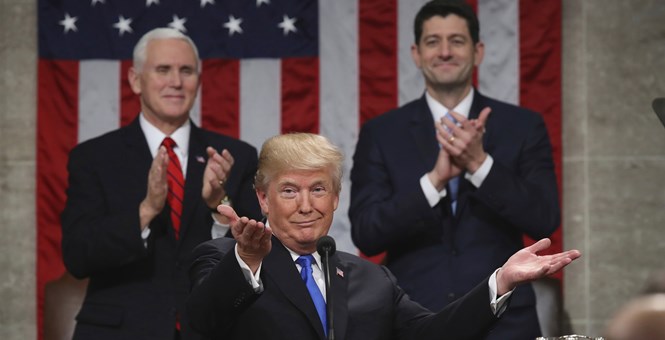 Growth: A new report shows that the median household income has climbed 3% since President Trump took office. It's another sign of a strong economy, and at least one poll shows the public credits Trump for the good news. Should Democrats wave bye to the Blue Wave?
Widget not in any sidebars
Median household income has been steadily increasing under Trump, rising from $59,471 in January 2017 to $61,483 last month, according to Sentier Research, which tracks income on a monthly basis using census data.
This also means that household income is now higher than it's been in at least 50 years — after adjusting for inflation.
This is a sharp turnaround from the Obama years. Sentier data show that median household income was the same when President Obama left office as when he arrived. Under Obama, household incomes continued to fall steeply for two full years after the recession officially ended, and then took four years to make up that lost ground. Incomes then flatlined again, posting no overall gain between August 2015 and December 2016.
This is just another indication that the economy has notably strengthened under Trump. And polls show that the public's mood has brightened considerably as a result.
The latest IBD/TIPP Economic Optimism Index is 53.6. This index has been in positive territory (anything over 50 is optimistic) since Trump took office. The Quality of Life Index, meanwhile, hit a 14-year high in May and the Financial Stress Index is at an all-time low.
Gallup's tracking poll shows that 67% now say it's a good time to find "a quality job in the U.S.," which is the highest since Gallup started asking this question 17 years ago. The best this measure ever got under Obama was a paltry 45%.
CNN's poll finds that 57% now say "things are going well in the U.S.," up from just 49% in February.
The latest CBS News/YouGov poll found that 64% rate the economy as somewhat or very good.
Wave Bye To The Blue Wave?
But what must really concern Democrats is that 68% of the public now says Trump's policies deserve at least some of the credit, according to the CBS poll. Thirty-five percent say he deserves a "great deal" of credit for the current economy, while only 11% say he deserves none at all.
That same poll found the Democratic advantage in the "generic ballot" at only +2 points. The latest Reuters poll has Republicans up by almost 6 points. As recently as March, Democrats had an average 9-point lead on this question — which is seen as an indicator of the enthusiasm for the two parties going into the midterm elections in November.
Widget not in any sidebars
Trump's approval numbers have also been eking out steady gains.
Naturally, this spate of good news has garnered little attention in the press, which remains fixated on the phony Russia scandal and, more broadly, on bringing down the Trump administration.
So, does Trump deserve credit for the upturn in the economy?
Consider this: President Obama raised taxes, imposed massive new regulations and mandates, and routinely berated the private sector. The economy responded with the worst economic recovery in modern times.
Trump and the Republican-controlled Congress have gone in the exact opposite direction, with sweeping tax cuts and significant deregulation. And since then we've seen growth, income, optimism all moving upward.
Given that, we think the public has it right for giving Trump credit for this turnaround.