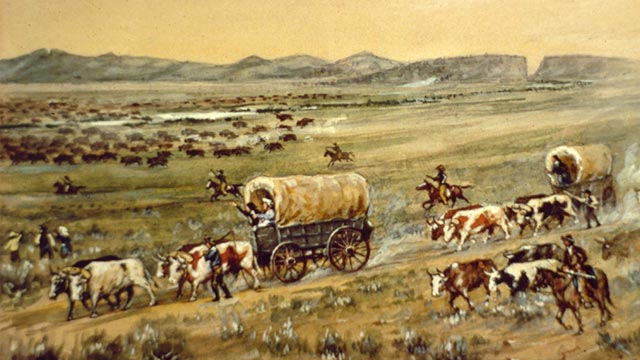 A massive wagon train, made up of 1,000 settlers and 1,000 head of cattle, sets off down the Oregon Trail from Independence, Missouri. Known as the "Great Emigration," the expedition came two years after the first modest party of settlers made the long, overland journey to Oregon.
Widget not in any sidebars


After leaving Independence, the giant wagon train followed the Sante Fe Trail for some 40 miles and then turned northwest to the Platte River, which it followed along its northern route to Fort Laramie, Wyoming. From there, it traveled on to the Rocky Mountains, which it passed through by way of the broad, level South Pass that led to the basin of the Colorado River. The travelers then went southwest to Fort Bridger, northwest across a divide to Fort Hall on the Snake River, and on to Fort Boise, where they gained supplies for the difficult journey over the Blue Mountains and into Oregon. The Great Emigration finally arrived in October, completing the 2,000-mile journey from Independence in five months.

In the next year, four more wagon trains made the journey, and in 1845 the number of emigrants who used the Oregon Trail exceeded 3,000. Travel along the trail gradually declined with the advent of the railroads, and the route was finally abandoned in the 1870s.