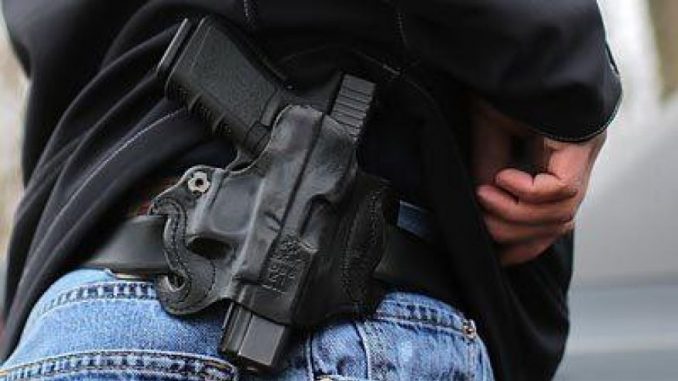 National reciprocity for concealed carry passed the House Judiciary Committee on Wednesday is expected to receive a floor vote before the end of the year.
The Concealed Carry Reciprocity Act of 2017 was introduced by Rep. Richard Hudson (R-NC) on January 3, 2017. It changes federal law that so concealed carry permits are treated like driver's licenses, making a permit from one state valid in the other 49. This would fix the complicated and often confusing patchwork of concealed carry laws currently in effect throughout the country.
To put it simply, Hudson's bill allows the common man to defend himself and his family as he travels throughout this country.
On November 28 Breitbart News reported that Hudson's legislation was scheduled for a markup in the House Judiciary Committee and the markup would serve as the last stop before a floor vote.
In fact, the markup demonstrated the committee's confidence that national reciprocity was headed to the floor.
Hudson released the following statement once national reciprocity passed out of the House Judiciary Committee:
My bill is a simple, common sense solution to the confusing hodgepodge of concealed carry reciprocity agreements between states. It will affirm that law-abiding citizens who are qualified to carry concealed in one state can also carry in other states that allow residents to do so. I am pleased to see such strong support in committee, and I look forward to continuing this momentum and bringing the bill to the House floor as soon as possible.
by AWR HAWKINS29 Nov 20173,427
Credit BREITBART
AWR Hawkins is the Second Amendment columnist for Breitbart News and host of Bullets with AWR Hawkins, a Breitbart News podcast. He is also the political analyst for Armed American Radio. Follow him on Twitter: @AWRHawkins. Reach him directly at awrhawkins@breitbart.com
[adrotate banner="24″]

[pt_view id="517b65fj16″]