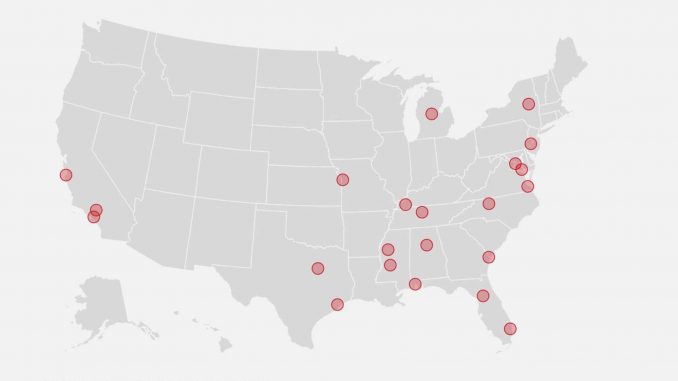 On Friday, CNN reported on the latest awful mass shooting at an American school – this time at the Santa Fe High School in Texas, where 8 people were murdered. According to CNN, one of these shootings has been happening at a school more than once per week:
Including today's shooting incident at a Texas high school, this year there have already been 22 school shootings where someone was hurt or killed. That averages out to more than 1 shooting a week. https://t.co/DL1wCUAipq pic.twitter.com/Qsw0WlLlJv

— CNN (@CNN) May 18, 2018
Every shooting is an act of evil. But this statistic is plainly untrue. CNN used the following parameters for their count:
A shooting that involved at least one person being shot (not including the shooter)
A shooting that occurred on school grounds
We included grades K through college/university level
We included gang violence, fights and domestic violence
We included accidental discharge of a firearm as long as the first two parameters are met
So, in other words, not mass shootings; not even purposeful shootings; not even shootings involving children. If a gang member shot another gang member on school grounds during the summer, this would count as a school shooting. If a wife shot a husband at a school, they counted it. So here are some of the 22 supposed shootings CNN counted:
April 12, Rayton, MO: Someone fired a gun in the parking lot of a track meet, and a man was wounded.
April 9, Globersville, NY: A student shot another student with a BB gun.
March 13, Seaside, CA: A teacher accidentally discharged a firearm during a public safety class. No one was killed.
March 8, Mobile, AL: A non-student was shot at an apartment on the University of South Alabama campus.
March 7, Birmingham, AL: Two students were shot accidentally during dismissal time at a school.
March 7, Jackson, MS: A student was shot at a dorm at Jackson State University.
March 2, Mount Pleasant, WA: Two non-students were shot at a dorm at Central Michigan University – and police blamed a domestic dispute.
February 27, Norfolk, VA: A student at Norfolk State University was apparently accidentally shot from an adjacent dorm room.
February 27, Itta Bena, MS: A non-student was shot at a recreation center at Mississippi Valley State University.
February 24, Savannah, GA: A non-student shooter shot a non-student victim on the Savannah State University campus.
February 9, Nashville, TN: A 14-year-old shot a 17-year-old in a targeted murder attempt in a parking lot of a school.
February 5, Oxon Hill, MD: Two teenagers shot a third teenager in a robbery attempt outside a school.
February 1, Los Angeles, CA: A 12-year-old girl accidentally shot two 15-year-olds.
January 31, Philadelphia, PA: A 32-year-old non-student was shot outside a high school after a fight.
January 20, Winston Salem, NC: A college football player was shot to death on campus at a party.
None of these events meet the more typical definition of a school shooting: a multiple-murder attempt on a school campus directed at children. CNN merely broadens the definition to include typical murders that happen to take place on school campuses, or in parking lots, or including non-students.

Widget not in any sidebars

That doesn't mean these incidents are unworthy of reportage. But it's plainly dishonest to state, as CNN does, that there have been 22 "school shootings" this year. When you remove those on the list that don't fulfill the typical definition, the number is more like seven. Seven is awful. 22 is blatant misreporting. But CNN has an agenda, and they won't let facts get in the way.