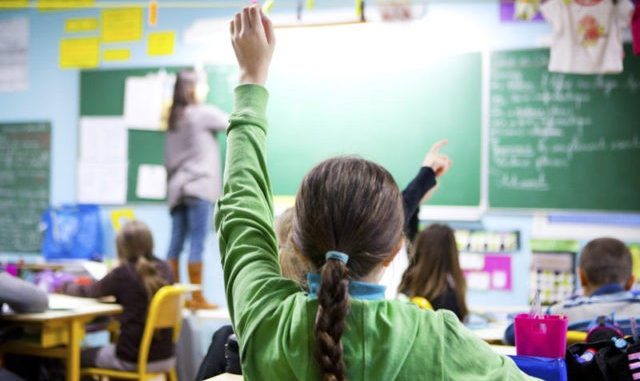 A national coalition of United States parents and state leaders focused on returning education policy back to parents and local communities has launched a petition to end the federal department of education.
"The Federal Department of Education should be abolished because it is costly and ineffective, it is unjust and unethical, it is too political, and it is unconstitutional," begins the petition at whitehouse.gov. "We, the undersigners, call upon President Donald Trump to keep his campaign promise to close the Federal Department of Education and end all Common Core aligned standards and testing."
The petition was launched May 11 by United States Parents Involved in Education (USPIE), a nationwide coalition of parents and leaders who say they are "fed up with being ignored on education policy" and have now "joined forces to abolish the US Education Department and put an end to all federal education mandates."

Widget not in any sidebars

USPIE recommends the following five steps to achieve the elimination of federal intervention in education:
Send all program management and funding to the states.
Repeal all laws permitting federal intervention in education starting with [Every Student Succeeds Act] ESSA
Privatize college loan programs.
Eliminate all offices and divisions in US Dept. of Education and related spending.
Reduce federal tax collection, shift revenue control back to states.
The coalition's top priorities include an assertion of its view of the concept of "school choice," a focus of the current Trump Department of Education. USPIE states:
The term "school choice" when thoughtfully considered is inadequate to describe the proper emphasis of authority necessary to right the education ship. Parents are a child's first teacher and they should have absolute say in what and how their children learn. We must restore parental authority over children's education and therefore USPIE will begin by redefining the solution from school choice to parental choice. Additionally, parental choice means curriculum choice where classical, technology-free, and other non-Common Core curricula are available.
The parents' coalition has also taken a strong stand against private student data collection.
"Elected officials from both political parties somehow conclude that personal information collected or seized without a warrant by the federal government belongs to the government," USPIE asserts, "thereby granting government the right and obligation to integrate all personal information to make it accessible to all government agencies as well as the private sector."
USPIE states that government K-12 schools are "teaching politically biased social justice values":
Students are taught the faults of America, Christianity, Western Civilization and White Men. Sadly, children are not being taught accurate history of the United States and the reasons for American exceptionalism. They are not being taught the historic facts about hundreds of millions of unarmed people of all races murdered by their own governments in the 20th century. Lack of historical context leads students to believe the only way they can be safe in school is to further restrict and/or take guns away from law abiding Americans. Children deserve better.
Regarding the issue of school safety, USPIE states, "No one should accept school violence of any sort, from bullying to homicide" and supports the elimination of "'Gun Free Zone' signs, as they may serve as an invitation to persons committed to hurting others."
Widget not in any sidebars
The coalition also says "states should allow private schools and school districts to set their own policies for allowing staff in compliance with existing firearms laws to concealed carry."
In February 2017, Kentucky Republican Rep. Thomas Massie introduced legislation to abolish the U.S. Education Department. The bill, H.R.899, consists of only one sentence and states: "The Department of Education Shall Terminate on December 31, 2018″:
#HR899, my bill to abolish @usedgov, is pretty straightforward. #EndFedEd pic.twitter.com/bWNg6fIkCv

— Thomas Massie (@RepThomasMassie) February 7, 2017
"Neither Congress nor the President, through his appointees, has the constitutional authority to dictate how and what our children must learn," Massie said regarding his bill, adding:
Unelected bureaucrats in Washington, D.C. should not be in charge of our children's intellectual and moral development. States and local communities are best positioned to shape curricula that meet the needs of their students. Schools should be accountable. Parents have the right to choose the most appropriate educational opportunity for their children, including home school, public school, or private school.
USPIE's advisory board members include conservative author and CRTV host Michelle Malkin; Common Core Standards experts Dr. Sandra Stotsky, Dr. Duke Pesta, and Dr. R. James Milgram; international journalist Alex Newman; and Federalist managing editor Joy Pullmann, among others.