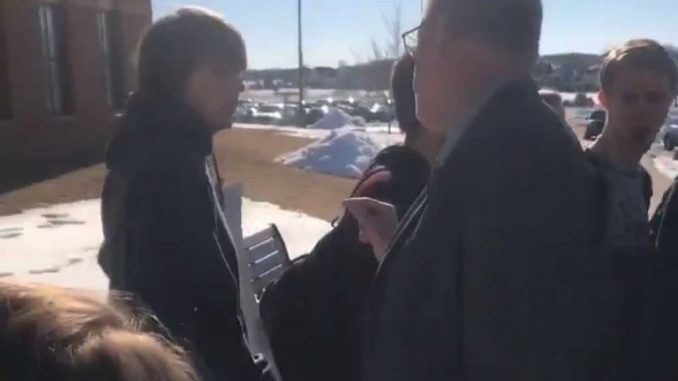 On Wednesday, a student at a high school in Minnesota joined his classmates who were participating in the National School Walkout and was singled out and removed by his principal for holding a sign that said, "Guns Don't Kill People, People Kill People."
The video was first posted to Facebook by Kenny MacDonald, a student at New Prague High School in New Prague, Minnesota. The short video does not show what took place before or after the principal singled-out the student. In the post, MacDonald provided the following account of what took place:
Kids at our school today walked out, in honor of the 17 students killed in Florida. Students held signs that said, "Arm our teachers" they had two signs. A student walked out without saying a word peacefully put up his sign which said "guns don't kill people, people kill people" he was escorted off the property by our principal and threatened to be put into a police car. This violates the first amendment and makes me sick that they can do whatever they want. Please make this go viral
Within a few hours, the video had already been viewed nearly 300,000 times, shared over 17,000 times, and received thousands of comments from people who expressed anger and disgust over the suppression of free speech and political indoctrination at public schools.
WATCH:
During the National School Walkout, a student at New Prague High School in Minnesota held a sign that said: "guns don't kill people, people kill people."

A student at the school said, "he was escorted off the property by our principal & threatened to be put into a police car." pic.twitter.com/1V6eaL0eRi

— Ryan Saavedra (@RealSaavedra) March 15, 2018