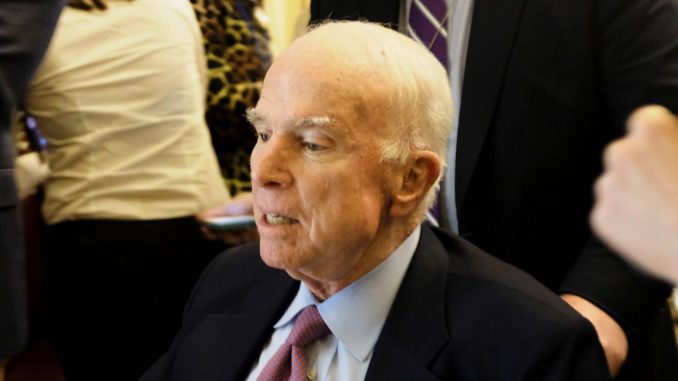 Sen. John McCain (R-Ariz.) wrote in his upcoming memoir that he does not regret alerting the FBI about the so-called Steele dossier, which details President Trump's alleged ties to Russia.
McCain acknowledged in January 2017 that he delivered a dossier of "sensitive information" to then-FBI Director James Comey.
In his upcoming book, "The Restless Wave: Good Times, Just Causes, Great Fights, and Other Appreciations," McCain wrote that he "did what duty demanded I do" in passing on the documents.
Widget not in any sidebars
"I discharged that obligation, and I would do it again. Anyone who doesn't like it can go to hell," McCain said, according to excerpts of the book published by The Guardian.
He added that any risk that the president might be compromised by Russians "had to be investigated."
The Steele dossier has been at the center of investigations into Russian meddling in the 2016 election conducted by congressional committees and special counsel Robert Mueller. Trump has repeatedly called the latter's probe a "witch hunt" and a "hoax."
The document has been a source of controversy, as it was funded partly by the Democratic National Committee and Hillary Clinton's presidential campaign.
It started out as an opposition research document funded by the conservative website The Washington Free Beacon.
The dossier contains claims about Trump's ties to Russia, including some salacious allegations about the president. Some of the claims have not been verified.
Comey, who was fired in May 2017, has said that Trump was fixated on disproving some of the more scandalous claims in the dossier.