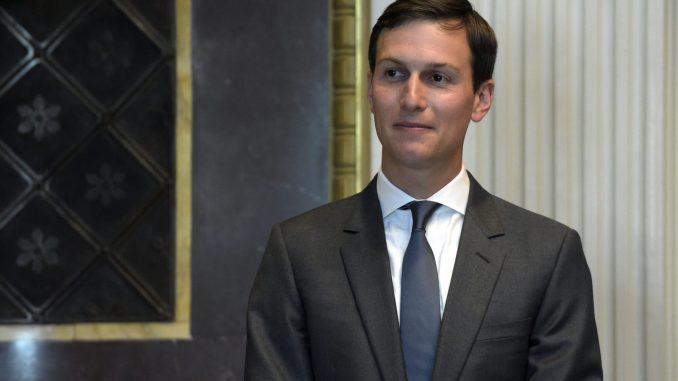 An effort led by senior White House adviser Jared Kushner to both increase prison security and provide a pathway out for some 4,000 well-behaved prisoners has scored a major, and lopsided, victory, the first major bipartisan deal for the Trump White House.
Widget not in any sidebars
The House Judiciary Committee voted 25-5 to back the "First Step Act," a shocking turn after the media had earlier written off chances that it would pass.
"We see it as a big win," said an administration official involved in the talks between House Republicans and Democrats.
Shut the revolving door on crime?

Republicans and Democrats work together?

Sound impossible?

The impossible is becoming possible with the FIRST STEP ACT. @RepDougCollins#firststepacthttps://t.co/4pVyi7jKsD pic.twitter.com/IgSGsU7wAV

— House Judiciary GOP (@JudiciaryGOP) May 7, 2018
While it falls short of everything both sides had sought, especially sentencing reforms wanted by Democrats, some in the White House see the negotiations as a compromise "model" for future legislative projects.
White House deputy press secretary Hogan Gidley said, "The president and his administration are pleased the House Judiciary Committee has voted to pass prison reform legislation. This is a bipartisan issue with bipartisan support because studies show this bill will reduce crime and save taxpayer dollars. We are encouraged by the committee's passage of the bill and look forward to a vote in the full House."
To win support, Kushner, the White House, and the bill sponsors had to maneuver through a political minefield and competing interests. Democrats were eager for easing prison terms, Republicans wanted to get tough and Attorney General Jeff Sessions had as a senator vowed to fight prison reform initiatives.
President Trump's son-in-law also formed unusual alliances. For example Kushner joined ultra liberal Van Jones and conservative icon Grover Norquist to promote the issue to the bipartisan House Problem Solvers Caucus.
He also traveled to Capitol Hill twice with former Sen. Jim DeMint, also the former Heritage Foundation president who is part of the Right On Crime effort.
In the end, the First Step Act, which now goes to the full House for a vote, provides help for inmates who are a low security threat, barring help to sexual offenders and murderers.
It also spends more on prisons while trying to figure a way to cut incarcerations.
Widget not in any sidebars
"The mass incarceration epidemic is 50 years in the making. Fixing our broken criminal justice system will take an all-hands-on-deck effort from my colleagues on both sides of the aisle," said Democratic sponsor Rep. Hakeem Jeffries of New York.
"The vast majority of federal prisoners will someday be released from prison and it is important to give them tools to become more productive citizens so that they don't return to a life of crime," said committee Chairman Rep. Bob Goodlatte.
In the Senate, Republican Texas Sen. John Cornyn, who is working on a similar prison reform bill, praised the House action.
"I'm not naive enough to think that people that go prison will be able to salvage and save every single one who comes out. But I do believe we can do much better if we give people the opportunity, those who have the will and the determination to take advantage of the opportunity to turn their lives around, to deal with their addiction, to deal with their lack of skills and education, and if when given the opportunity to do so decide they want to take advantage of that to turn their lives around," he said.
In a statement, DeMint added, "I applaud the House Judiciary Committee for approving the FIRST STEP Act. Prison reform has proven successful in reducing recidivism, improving public safety and saving taxpayer dollars in states like Texas, Georgia, and South Carolina. Passing this bill out of committee is the first step toward implementing similar reforms at the federal level and giving incarcerated people the tools they need to become productive members of society."