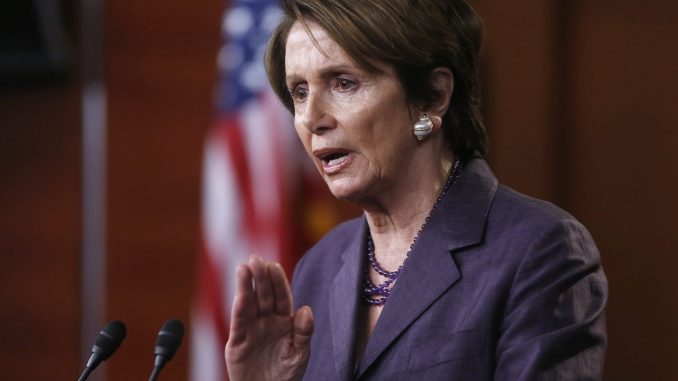 The White House has aggressively stepped up its campaign for secret agent Gina Haspel to run the CIA, directly challenging Democratic leaders over "enhanced interrogation" of terrorists in claiming they were responsible for the policy, not those who implemented it.
In a new statement defending Haspel against expected charges she had a role in waterboarding al Qaeda's killers, the White House said instead that it was policymakers like then-House Minority Whip Nancy Pelosi, D-Calif., who were briefed and gave nod of approval.
From the White House statement:
Policymakers who set up, approved, and were briefed on enhanced interrogation techniques are the ones who were responsible for the program, not the CIA's dedicated and professional officers like Haspel who served honorably.

Congressional leadership, including House Minority Leader Nancy Pelosi (D-CA), were briefed as early as 2002 on the CIA's interrogation program according to unclassified documents by the agency.

In 2009, then-CIA Director Leon Panetta confirmed this, stating that CIA officers had briefed certain Members of Congress in 2002.

The Justice Department's Office of Legal Counsel, which signed off on the CIA's interrogation program in 2002, determined the program's legality, not career officers at the agency.
As Haspel, a 33-year veteran who is slated to be the first woman to run the agency and the first from the ranks in 52 years, the administration is also ripping the media and critics for falsely saying that Haspel was present at one tough interrogation.
Said the White House:
Director of CIA's Public Affairs Office Dean Boyd: "It is important to note that [Haspel] has spent nearly her entire CIA career undercover. Much of what is in the public domain about her is inaccurate."

One news outlet had to issue a retraction after it published an inaccurate story that falsely claimed Haspel was present for a reported enhanced interrogation.

A CIA spokesperson said that "nearly every piece of reporting" in the article was "incorrect in whole or in part."

Given the sensitive and classified nature of much of their work, the CIA and Haspel cannot always deny or push back against false or inaccurate reporting.

By enduring these false attacks on her character, Haspel has put America's national security above her own self-interest.
Related Links:
Donald Trump Backs 'Tough on Terrorists' Nominee Gina Haspel