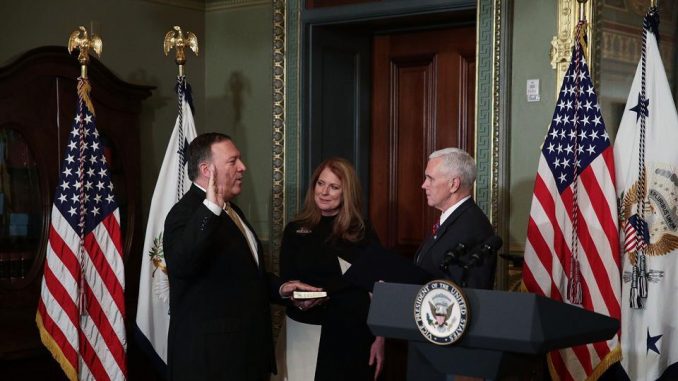 The Senate on Thursday confirmed Mike Pompeo to serve as secretary of state with the help of a few red-state Democrats facing tough re-election bids.
Pompeo was approved in a 57-42 vote that cleared him to start work a day ahead of a critical NATO summit scheduled for Friday.
Six Democrats ended up voting for Pompeo: Joe Donnelly of Indiana, Heidi Heitkamp of North Dakota, Doug Jones of Alabama, Joe Manchin of West Virginia, Claire McCaskill of Missouri and Bill Nelson of Florida. Sen. Angus King, I-Maine, also voted for him.
Widget not in any sidebars
Pompeo has been serving as CIA director, and earlier this month held a landmark meeting with North Korean leader Kim Jong Un to lay the groundwork for a summit with President Trump in the coming weeks.
Republicans touted Pompeo as the most qualified and experienced candidate to fill the post, but he generated staunch opposition from Democrats, including those who approved him for CIA director last year. Democrats said they feared Pompeo is too hawkish and will not put diplomacy ahead of military solutions.
But four Democrats and one independent who votes with Democrats threw their support behind Pompeo, including lawmakers from facing tough re-election bids in states Trump won handily in 2016.
Among them was Sen. Joe Manchin, D-W.Va., who said he met with Pompeo and discussed "his foreign policy perspectives" before deciding his "distinguished time as CIA director and his exemplary career in public service" had earned his vote.
Pompeo was confirmed after a dramatic Monday committee vote on his nomination that at first appeared poised to reject him. But at the last minute, Sen. Rand Paul, R-Ky., abandoned his opposition to Pompeo after receiving assurances from both him and Trump that the U.S. should leave Afghanistan and avoid future wars like the one waged in Iraq.
Pompeo, 54, served as a House lawmaker from 2011 until his resignation last year, representing Kansas's 4th District.
Pompeo is a vocal opponent of the Iran nuclear deal and helped expose a secret side deal that allows Iran to avoid monitoring and inspection of some military sites.