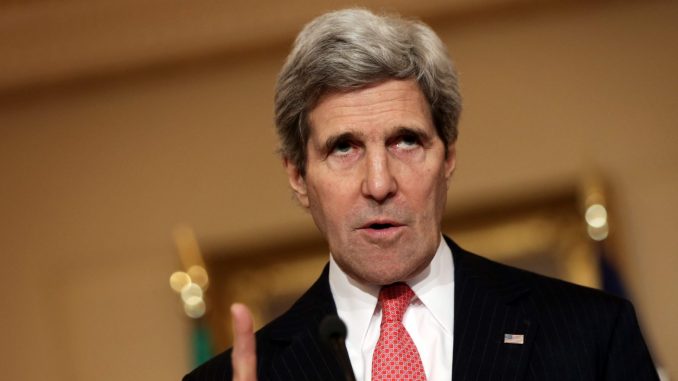 Former secretary of state John Kerry is reportedly working with world leaders to undermine American foreign policy and try to salvage the Iran deal.
According to a new report by The Boston Globe, under the threat of President Donald Trump pulling out of the Iran Deal, Kerry "engaged in some unusual shadow diplomacy with a top-ranking Iranian official."
Pulling from his list on contacts he collected while working at the State Department, Kerry has met with Foreign Minister Javad Zarif,  German President Frank-Walter Steinmeier, European Union official Federica Mogherini and French President Emmanuel Macron.
Michael O'Hanlon, a foreign policy expert at the Brookings Institution, admitted to the Globe that while it is normal for former government officials to keep in touch with foreign contacts, it is highly unusual for them to lobby on a specific policy position.
Widget not in any sidebars
Kerry's actions are even more troubling because he is actively seeking to undermine the current administration and its policies on the deal with a rogue state.
In fact, according to the Globe, Kerry is conducting his meetings "below the radar" because he recognizes that they would "provoke Trump."
Another concerning aspect to the story are the parallels to the actions of former national security adviser Michael Flynn, who was accused of violating the Logan Act by talking to foreign officials prior to Trump taking office. Kerry is possibly even more out of bounds because he is a private citizen as opposed to a member of the transition team for an incoming president.