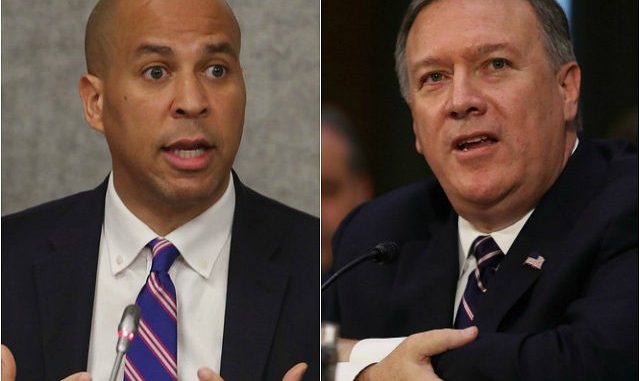 WASHINGTON, DC – Sen. Cory Booker (D-NJ) announced on Friday that he will vote against CIA Director Mike Pompeo's nomination to become secretary of state because of Pompeo's beliefs on marriage and sexuality — beliefs consistent with Pompeo's Christian faith. Conservative leaders are now denouncing Booker's vote as a violation of the Constitution's Religious Test Clause.
Booker sharply questioned Pompeo on Thursday during the nominee's confirmation hearing before the Senate Foreign Relations Committee, referring to words Pompeo spoke at a church in his district when the current director of the Central Intelligence Agency (CIA) was still serving in the U.S. House of Representatives.
Widget not in any sidebars
Pompeo has also supported efforts to defend marriage as the union between one man and one woman. Those beliefs are consistent with mainstream Christian beliefs.
Booker announced on Facebook late Friday that he will vote against Pompeo, saying that the former congressman's religious beliefs on these issues make him unfit to serve in federal office representing the United States. "I believe you can't lead the people if you don't love the people," Booker wrote. The senator then quotes Bible verses that he thinks Pompeo is not living up to, including references to loving his neighbor.
Article VI of the U.S. Constitution provides, "No religious Test shall ever be required as a Qualification to any Office of public Trust under the United States."
Conservative and Christian leaders are appalled at Booker's announcement, saying the Constitution forbids Booker's voting against Pompeo because of the nominee's religious beliefs.
"Demanding a loyalty oath to Sen. Booker's determination of which beliefs are acceptable isn't what this country is about; indeed, it's what we fought for independence from," Tony Perkins, the president of the Family Research Council (FRC), tells Breitbart News. "We should celebrate that we are a nation that not only allows but encourages every American to hold and express their beliefs – including their religious beliefs – without fear of retribution by the government."
Perkins, whose FRC has launched a petition protesting Booker's violation of the Religious Test Clause that has 25,000 signatures at the time this article was filed, adds that this principle "is the essence of America and the Constitution."
"Religious bigotry and discrimination is unacceptable in this country, much less from someone who takes an oath to our Constitution and who is supposed to serve the people of this country," agrees Kelly Shackelford, president of First Liberty Institute, in an exclusive comment to Breitbart News.
"Sen. Cory Booker questioned Secretary of State-nominee Mike Pompeo for comments he made at his church, comments which reflected long-standing church doctrine regarding homosexual conduct and the biblical definition of marriage," said Prof. John Eastman, chairman of the National Organization for Marriage (NOM). "And now Sen. Booker asserts that he will oppose Pompeo for those views."
Widget not in any sidebars
"This is essentially imposing a religious test on officers of the United States, something explicitly forbidden by Article VI of the Constitution," added Eastman, whose NOM has likewise launched a petition.
"The American people put President Trump in the White House in part because they refuse to be discriminated against for their long-held, mainstream beliefs," Trump Transition Team leader Ken Blackwell offers to Breitbart News. "Whether on abortion, marriage, the Bible, the Second Amendment, or other issues, tens of millions of Americans who are wonderful people have been vilified for their beliefs by left-wing elites, and the American people chose a president who will stand up for them."
Pompeo's nomination is still pending in the Senate, with committee approval expected shortly but no final floor vote yet scheduled.