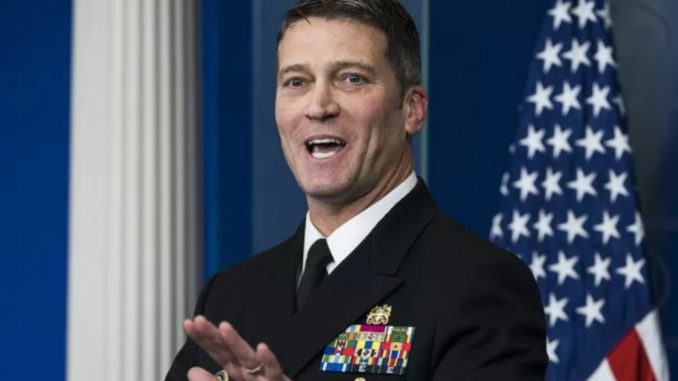 President Trump's pick to lead the Department of Veterans Affairs is dismissing concerns that he lacks the experience necessary to take over the massive agency, which has more than 300,000 employees and 1,200 medical  facilities.
Ronny Jackson, a Navy rear admiral, has been a White House physician since 2006 but has little executive management experience.
"You know, I'm not just an officer in the Navy; I'm an emergency medicine physician in the military. I've been confronted on a day-to-day basis with life and death decisions," he told the Lubbock Avalanche-Journal in his first interview since Trump announced his intent to nominate Jackson March 28. "I think I've got what it takes, and you know, I don't buy into that argument at all."
"Dr. Ronny," as colleagues call him, rose to national prominence in January when he conducted a White House press conference after giving the president a check up and mental acuity exam and proclaimed Trump's "overall health is excellent." But little has been publicly reported beyond his official bio on the Pentagon website.

Widget not in any sidebars

For that reason, some lawmakers and veterans' groups have said they are withholding judgment on his nomination to be VA secretary.
"Dr. Jackson's bio does not reflect any experience working with the VA or with veterans, or managing any organization of size, much less one as multifaceted as the Department of Veterans Affairs, so the VFW will be closely monitoring his Senate confirmation process," the Veterans of Foreign Wars said in a statement.
Trump announced his intent to nominate Jackson in a tweet March 28. At the same time, he fired David Shulkin from the secretary's post, saying he wasn't happy with the pace of improvements to the VA and wanted veterans to have more options for private care.
Jackson, in his interview with the Lubbock Avalanche-Journal, did not outline his views on giving veterans more options to get VA-sponsored health care in the private sector. But he said, "We owe the vets the absolute best care that's available out there."
"I've been overseas, and I've been deployed in combat zones with Marines and soldiers and airmen and sailors, and I've seen first-hand what they go through, the injuries and the things they come home with," Jackson said.
Widget not in any sidebars
"I've seen how that happens, and how devastating it is to them and their families. I just want to make sure that we do our part as a country and we let them know that we appreciate that and we take care of them."
The VA has been buffeted by scandal since 2014, when news reports revealed veterans had died waiting for appointments in Phoenix while schedulers kept secret wait lists masking how long they were waiting.
Since then, USA TODAY has reported on poor quality of care, misdiagnoses, supply shortages and failures in hiring and firing medical providers, among other problems that still plague the VA.
If confirmed, Jackson will be the fourth VA secretary in four years.