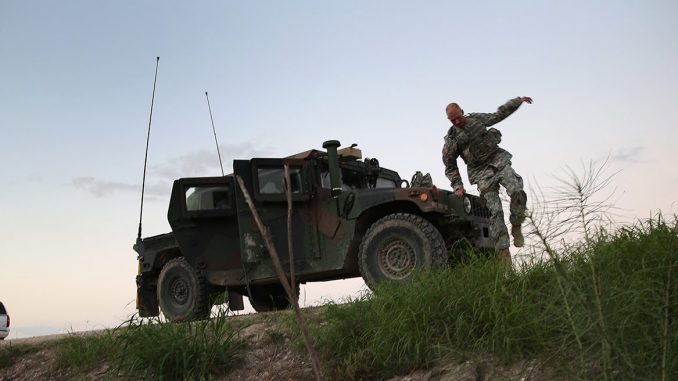 When President Donald Trump said Tuesday he would deploy the National Guard to the southern border, he joined a long line of presidents who have used the military to bolster security at the porous U.S.-Mexico frontier.
Ordering a troop deployment to the border has become something of a tradition for the chief executive. The past five presidents before Trump all used the military to stanch illicit flows of people and contraband from Mexico into U.S.
Trump's call for the military to support border law enforcement agencies came in response to a caravan of migrants heading north through Mexico with the aim of applying for asylum or slipping across the border. The president said "weak" U.S. immigration laws encourage such marchers and promised to use the military to compensate until lawmakers passed stiffer border security measures.
"We have horrible, horrible and very unsafe laws in the United States," Trump told reporters Tuesday. "We are preparing for the military to secure our border between Mexico and the United States."
Widget not in any sidebars
The president's Democratic opponents derided the plan, but the idea of deploying the National Guard to help enforcement along the border is not a new one. Trump's most recent predecessors, former Democratic President Barack Obama and former Republican President George W. Bush, both did it, sending thousands of troops to assist Customs and Border Protection (CBP) with surveillance, logistics, and construction projects.
In 2006, Bush kicked off Operation Jump Start, a deployment of 6,000 National Guard members to the border regions of California, Arizona, New Mexico and Texas. Due to federal laws limiting the extent to which the U.S. military can participate in domestic law enforcement, Operation Jump Start did not directly arrest illegal immigrants or seize drugs. Instead, the National Guard troops conducted remote surveillance and observation missions, and also built infrastructure such as roads and fences.
Obama ordered a successor mission to Jump Start in July 2010. Dubbed Operation Phalanx, it consisted of 1,200 National Guard soldiers and airmen helping to detect intrusions and provide technical support to Border Patrol agents.
Though the Bush-Obama deployments were welcomed by the National Border Patrol Council, the Government Accountability Office questioned their effectiveness in relation to their expense. Together, both operations cost about $1.35 billion, according to a GAO report.
Another recent Democratic president, Bill Clinton, used the military along the border with the specific objective of halting illegal immigration. In 1994, Clinton authorized Operation Gatekeeper, a National guard deployment to the border area between San Diego and Tijuana, Mexico, at the time the busiest land border crossing in the world.
Clinton's Republican predecessors — former Presidents George H.W. Bush and Ronald Reagan — ordered their own troop deployments to the border, using the National Guard in counter-narcotics missions.
Under Trump, border apprehensions fell to historic lows last spring, but have ticked up in nearly every month since then. Particularly concerning for immigration authorities has been a rise in the number of unaccompanied minors and family units from Central America.
Robert Charles, a former assistant secretary of state in the George W. Bush administration, says a military deployment to the border could keep those levels from rising further in the absence of a border wall.
"For the moment, ramping up National Guard on the border — as Presidents Reagan, George H.W. Bush, George W. Bush, Clinton and Obama did — says to illegal immigrants 'don't try it,' he wrote in an opinion column for Fox News. "The action tells Mexico 'we are watching.' And President Trump's message to Congress is 'get back to work on the wall, fixing immigration, addressing DACA.'