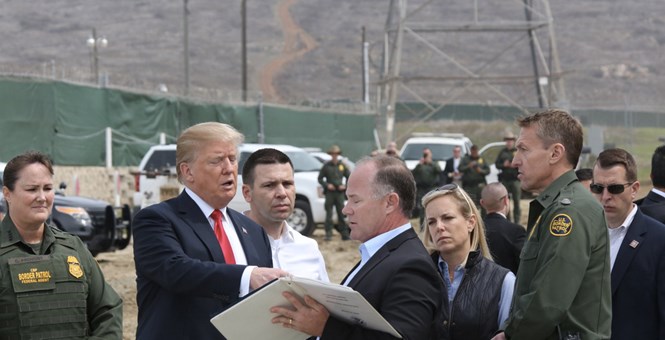 The White House and Department of Homeland Security released additional details Wednesday about President Trump's plans to send National Guard troops to the U.S.-Mexico border.
Widget not in any sidebars
Here's what we know so far:
–Purpose: President Trump issue a  directive to the National Guard Wednesday to offer assistance to DHS along the southern border with Mexico. National Guard troops will not perform apprehensions, but instead will offer personnel support, conduct surveillance, repair current border wall/fence and vehicle maintenance. This will allow Border Patrol agents to be deployed to the front line for apprehension roles. Troops will not arrest or detain illegal aliens.
–Time frame: DHS officials say National Guard troops will be deployed until Congress ends catch and release, in addition to legal loopholes to secure the border. They will be deployed immediately.
–Number of troops: White House and DHS officials will not give a number of troops at this time, but did say during a background call the number will be determined in the future by conditions on the ground. They will also work with state governors on specific numbers.
–Where will National Guard troops deploy? Administration officials say troops will be deployed to the highest trafficked areas of the southern border. Currently, the Rio Grand Valley in Texas has the highest number of illegal crossings.
–Why now? The White House and DHS say the deployment is for deterrence as illegal crossings increase. Although border crossings significantly decreased after the 2016 presidential election, today more than 1000 illegal aliens are crossing the southern border on a daily basis. The move is also a response to frustration with Congress for failing to correct immigration law that enables catch and release policies, which allow illegal aliens to essentially stay in the U.S. permanently.
–In the meantime: The White House and DHS are developing a new legislative package to end catch and release.
President Trump addressed the issue at the White House Tuesday and had a meeting with Secretary of Defense James Mattis.
"We are going to be guarding our border with our military. That's a big step," Trump said. "We cannot have people flowing into our country illegally, disappearing, and by the way never showing up for court."