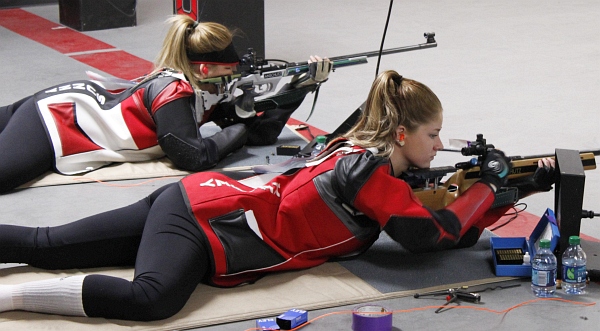 Nicole Van Blarcom, 14.
Stewartsville, New Jersey.
All but one were born in the decade after Columbine; like the student gun-control advocates activated by the recent massacre at Marjory Stoneman Douglas High School, in Parkland, Florida, most are in their teens. But the children depicted here—hunters, target shooters, competitors in trap and skeet—occupy a parallel realm, where guns signify not danger, alienation, and the threat of death but safety, discipline, and trust.
Joaquin Elizondo, 9.
Edinburg, Texas.
Several years ago, while on a road trip, Sharif Hamza, a British-born photographer who lives with his wife and two daughters in Brooklyn, met a grade-school kid with a shotgun in the Arizona desert. Watching the boy's father patiently instruct him in safety procedures, Hamza was struck by how different the interaction was from the culture he grew up in, where soccer was the game in the park and the rich kids might golf or ski, but shooting was practically unheard-of.
Shannara McDunn, 17.
Helena, Montana.
Matt Kirby, 11.
Billings, Montana.
Lane Bequette, 11.
Laurel, Montana.
Nathan Dierenfield, 12.
Billings, Montana.

Widget not in any sidebars

Curious, Hamza reached out to 4-H clubs—which teach riflery along with animal husbandry—and began to attend youth competitions associated with the National Shooting Sports Foundation, a trade group that also puts on one of the largest gun shows in the world. Outside of cities and their suburbs, Hamza says, "shooting felt as common as skateboarding."
Logan Dunn, 18.
Wilmot, Wisconsin.
Jordan Walton, 13.
Grafton, Wisconsin.
This is not an accident. With gun-advocacy groups investing heavily in youth recruitment and manufacturers catering to an emerging children's market, the shooting sports are gaining in popularity. (Before Nikolas Cruz was expelled from Stoneman Douglas, he was a member of a varsity riflery team that benefited from a ten-thousand-dollar grant from the National Rifle Association.) Shooting generally places few physical demands; advocates present it as a safe sport, with little incidence of injury (unlike soccer, or, for that matter, skiing). With no discernible disparity between the sexes, it is also portrayed as an empowering one. Millennials' attitudes about guns cut along seemingly opposing lines: most support fewer restrictions on which weapons can be bought but tighter regulations on who can buy them.
Saige Jessie Bruzaud-Holstein, 14.
Montague, New Jersey.
Tyler Pegues, 14.
Memphis, Tennessee.
When Hamza began his project, in 2016, the families of his subjects were wary, lest their children be drawn into a heated political debate. In recent weeks, that concern has grown more urgent; after Parkland, any image of a child with an AR-15 must carry an acute emotional charge. Hamza, an urbanite, reassured the parents that, for him, guns were a way to learn about an unexplored facet of American youth culture. When the kids he met weren't shooting, they hung out with their parents, who, because of the risks and their own interest, tend to be ever-present. Around weapons, Hamza's subjects were solemn and alert: no unseemly exhibitionism or goofing with their guns. "It's drilled into the kids' heads—respect and responsibility," Hamza says.
Bethany Garrison, 14.
Crossville, Tennessee.
Emma Harkavy, 16.
Memphis, Tennessee.
Jack Copeland, 17.
Dallas, Texas.
John Saathoff, 15.
Orlando, Florida.
For Hamza's subjects, though, guns are a given (often literally so, as gifts from Mom or Dad). They respond to the danger inherent in weapons—and the danger in the world, however remote, which often drives their acquisition—with determination to attain mastery.
Mackenzie, 15.
Washington State.
Zane Thomas, 10.
Phoenix, Arizona.
At a shooting meet in Lake of the Ozarks, Missouri, Hamza met Cheyenne Dalton, a two-time ladies' world champion in an event that involves a pistol and a rifle. That day, Cheyenne, who is now seventeen and has an ammunition sponsor, was competing in 3-Gun, which meant running through an obstacle course firing a handgun, a shotgun, and an AR-15 at specified intervals. Cheyenne, who also plays the mandolin in a bluegrass band that she founded, was recruited by a professional trainer at a concealed-carry course taken by her mother, who wanted to protect herself from crime. Now, at gun shows, Cheyenne finds herself encouraging other women and youths to try shooting, and she hopes one day to work in the firearms industry. To her, there is no contradiction between being a safety freak and loving AR-15s. "The thing about shooting is it's just so fun," she told me. "It's really great for families."
Cheyenne Dalton, 16.
Lockwood, Missouri.

Widget not in any sidebars