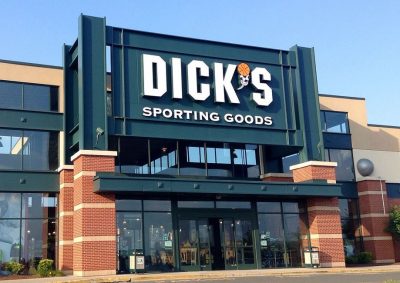 Just weeks after halting sales of all firearms to customers under the age of 21 and banning AR-type rifles in its Field and Stream stores, retail giant Dick's Sporting Goods announced a "deeper-than-expected" sales drop as their stock sank the most in four months, according to Fortune.
"There's going to be some pushback and we expected that," said CEO Edward Stack, in an earnings call with Wall Street analysts, CNN reports. "There are going to be the people who don't shop us anymore for anything."
Fortune is careful to tell its readers not to blame the company's struggles on its anti-gun stance. Dick's has struggled with "excessive inventory and deep discounting," and it's been unable to compete with Amazon and Nike, who have both been pushing customers to make online purchases.
Still, Fortune admits that Dick's has no direct competition. After Sports Authority's collapse in 2016, Dick's became the only national chain of its kind, and investors were hopeful the company could capitalize on its singularity.
That hasn't happened, and on Tuesday Stack admitted the decision to limit gun sales is "not going to be positive from a traffic standpoint and a sales standpoint."
While he said it's still too early to judge the effect of his decision, shares of Dick's fell as much as 7.3 percent to $30.19 in New York, the biggest intraday decline since mid-November.
Same-store sales have been slumping and are expected to stay that way for another year, according to the company. Analysts had estimated these sales would only drop 1.2 percent; instead, they dropped 2 percent last quarter.
Gun enthusiasts won't be surprised to learn that the gun and hunting parts of Dick's business has been "extremely soft," according to Sam Poser, analyst for Susquehanna Financial Group. He told Fortune that Dick's decision to limit gun sales was a "prudent decision both from a business and PR perspective," though it's unclear why angering a customer base would ever be a prudent business decision.
Dick's is facing more than just financial trouble. We reported earlier this month that the company is fighting a lawsuit for age discrimination from a 20-year-old in Oregon who was denied the purchase of a Ruger 10/22 at a Field and Stream. Based on Oregon's discrimination laws, his suit has a good chance of success.
Despite its troubles, the company still plans to open 19 new stores this year.