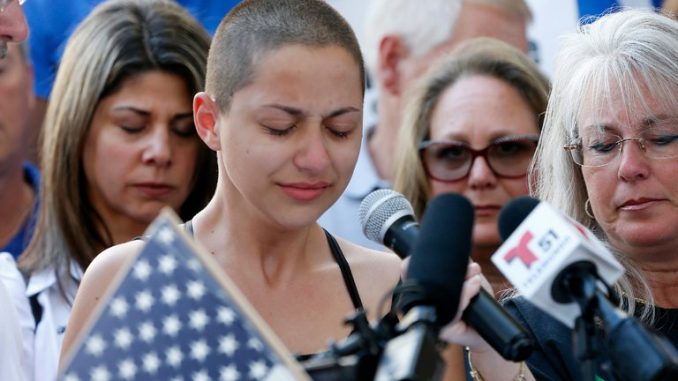 REVEALED: Anti-gun group failed to get proper permits for #MarchForOurLives event in D.C. this weekend
• Students told by educators to "raise hell" with POTUS
• Broward County teachers coaching children on media 'talking points'
• Teacher claims Southwest Airlines is bankrolling the anti-gun march
• Students forced to wear Gabby Giffords swag
• Lefty teacher brags about using taxpayer resources to coordinate political event
• 'Top secret' meetings planned with Joe Biden and Nancy Pelosi
• Teacher alludes to 'Jews' controlling Washington
A meeting between Parkland students and anti-gun activists mobilizing for the highly anticipated March For Our Lives event in Washington, D.C. this weekend was captured on hidden audio Tuesday evening in Broward County, Florida and provided exclusively to DANGEROUS.
The meeting, which was described as a non-partisan briefing for students, parents, and staff members from Marjory Stoneman Douglas High School who are attending the #MarchForOurLives, was quickly exposed as being hijacked by Democratic Party top brass and fraught with extreme anti-conservative bias, misappropriation of school resources, and heavy-handed coaching for students when dealing with the media.
Held at the Marriott Hotel in Coral Springs, FL, the meeting was organized by Debby Miller, who teaches at Beachside Montessori Village, a Broward County Public School. Miller introduced herself as a representative for the Giffords Foundation, which has decided to fund and sponsor over 200 students, staff, and parents from Parkland, Florida to attend the march in Washington. Miller stated at the beginning of the meeting that the meeting space was donated by the Marriott Hotel.
The Giffords Foundation, a 501(c)(3) and 501(c)(4) non-profit founded by Gabby Giffords, the former Democratic congresswoman from Arizona, describes its mission as, "We research, write and propose policies that make Americans safer and mobilize voters and lawmakers in support of safer gun laws."
During the meeting, Miller also revealed that "Southwest Airlines has decided to donate all of the seats" for everyone who is traveling to Washington with the Giffords Foundation for the illegal march.
In recent weeks, other airlines have entered into the political battleground where guns are concerned. Following the Parkland shooting, both United and Delta airlines cut their corporate ties to the National Rifle Association following the #BoycottNRA social media campaign that was launched by students in Parkland and liberal activists.
However, the cutting of ties by these airlines quickly backlashed after Georgia lawmakers approved a bill that stripped out a $50 million tax break for Delta Air Lines by Republican lawmakers as a result of Delta's new position on firearms.
When contacted for a statement regarding Miller's claim that Southwest was bankrolling the anti-gun travel, Chris Mainz, a spokesperson for Southwest Airlines said, "That is not true. Southwest airlines is not providing any travel for students."
Miller, who thought she was speaking to a room full of supporters with no cameras, revealed in the leaked audio what she called "top secret" information about the politically charged march, including Nancy Pelosi's secret plans to participate in the anti-Trump and anti-Second Amendment protests.
"We're also going to have things that are not on the agenda that are kind of top secret. So all of the press here just pretend like you're not hearing this. We will be introduced on Capitol Hill by Nancy Pelosi, so that's kind of cool. And it's quite possible we are going to have a private meeting with Joe Biden. Don't say anything to anyone," Miller said.

Miller was caught saying to the students, "I want you to feel like it's going to camp." That "camp," completely sponsored by some of the nation's leading left-wing organizers and lawmakers, comes equipped with activist swag items such as Giffords t-shirts and backpacks. Students are required to wear the Giffords swag while traveling to D.C., Miller told them.
The other "super off-the-record" comment Miller told the students in attendance is that the Giffords Foundation failed to secure the proper permits that are required in order to hold a large march on Capitol Hill. For this reason, the "march" is illegal, unless they call it a "rally."
"It was supposed to be a march, but shockingly they wouldn't give permits for the march, so the march became a rally," said Miller.
Despite failing to acquire proper permits for the event, Miller encouraged the students to break the law and march to the White House with their signs to "raise hell," which would make students and other participants subject to arrest.
"Now I've heard rumors from kids that since the rally is right on Pennsylvania Avenue and the White House is like a twenty minute walk up the street, that that might happen.

So it's conceivable that we could leave at the end of the rally and walk to the White House where we rally some more, and hold up our signs and say our piece, and create a little hell.

And then go to the [National Education Association] building and have hot chocolate," said Miller enthusiastically.
When reached for comment by DANGEROUS Miller doubled down, insisting she supports students breaking the law and marching without the required permits.
"I have no problem with civil disobedience," she told DANGEROUS on Wednesday afternoon.
In the recording Miller also told students, with full snark, that Republican politicians expressed interest in meeting with them. "Mitch McConnell is threatening to meet with us, not sure if he really means that or not, as is Marco Rubio, so we will see how that one goes."
Last month at CNN's so-called Town Hall about gun control in Broward County, CNN's Jake Tapper sat back as a 17-year-old a student at Marjory Stoneman Douglas High School told the Florida senator, "Senator Rubio, it's hard to look at you and not look down the barrel on an AR-15 and not look at Nikolas Cruz."
The Tuesday meeting exposes extreme anti-conservative bias as the Giffords Foundation, in coordination with the Broward County Public School System and its teachers, as they attempt to weaponize children for a large scale protest in the nation's capitol.
The adult leftwing activists are also ensuring the student-pawns are as media-savvy as possible.
The audio confirms what conservatives have been saying since the anti-gun media onslaught following the Valentines Day school massacre in Florida: That the Parkland students are in fact being given scripted liberal talking points to push gun control.
"The media and reporters and legislators are going to listen to sound bites. That's how they are going to hear you. They are going to hear you in bites. In little pieces. So you need to have your talking points ready," Miller told students.
In perhaps the most bizarre comment of the evening, Miller was also caught on the audio recording insinuating that Jews control the politicians in D.C.
"I would say something about the politicians if the Jews were in charge of the weather, but that's not right."
When asked about the strange comment, Miller told DANGEROUS she is Jewish and "the truth is, I wasn't really thinking about it. I was just making a joke."
Miller also admitted on tape to abusing tax-payer resources designated for the operation of Broward County Public Schools.
With a wink and a nod, Miller laughingly told attendees how she used school resources to print off nearly 200 copies of Giffords Foundation itineraries to organize the political event.
"If you don't have an itinerary, it's because when I got up to like 200, my principal was like, "I'm assuming that's not for school," and I was like "hmmm sure it is."
When asked about her misuse of taxpayer resources to print propaganda, Miller said, "I was kidding. I was trying to be funny. I have never used the school printer for anything."
Miller also told DANGEROUS she is not being paid by Giffords's foundation.
A copy of the official #MarchForOurLives itinerary obtained by DANGEROUS's Laura Loomer indicates that the Giffords Foundation has organized a three day leftwing political bonanza for the soon-to-be voting-age students.
Besides the failed march turned rally, the students will be participating in tours of several museums, group dinners, a press conference at the U.S. Capitol.
Nancy Pelosi is expected to introduce them, a private meeting with Joe Biden, student delegation meetings on Capitol Hill, a Giffords student delegation luncheon at the Newseum.
A "Stay Loud" concert at the Anthem in Washington, Ice Cream socials, pizza parties, a meeting with the National Education Association, and a tour of the monuments.
The official itinerary also notes the anti-gun protesters will be traveling with "plain clothed" private security officers who will be fully armed. Yes, with guns.
Listen to the leaked recording here: