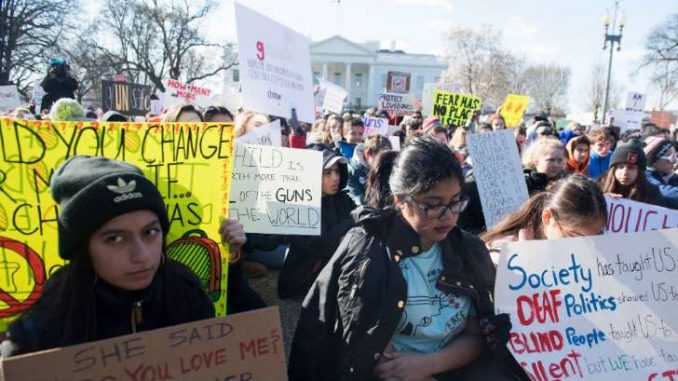 Students at a Kansas City, Mo. high school who participated in a walkout to protest gun violence on Wednesday were marked truant and punished.
Only about 200 of Park Hill High School's 2,000-person student body participated in the walkout as part of a larger series of student-led protests organized across the country, Fox 4 News in Kansas City reported.
But students were warned against doing so by teachers. Those that did participate were greeted by teachers in the school's hallways when they returned. According to the report, some teachers were guarding the hallways and some doors were locked to keep students from reentering.
One student who participated in the protest, Riley Peak, told Fox 4 that he was given the choice to do either a half-hour of detention after school, or attend a disciplinary meeting after spring break.
He said he chose the disciplinary meeting.
"I figured if they want to track me down to punish me for expressing my first amendment right, then they have the right to do so," he told Fox 4.
Other schools across the country also warned that they would punish students who left class to participate in protests on Wednesday, while other schools allowed students to do so.
The protests came a month after a deadly mass shooting at a South Florida high school reignited a national debate over gun control laws. Since then, students have emerged as some of the most vocal advocates for strengthening firearms restrictions.
The protests on Wednesday were intended to mark the one-month anniversary of the shooting in South Florida.