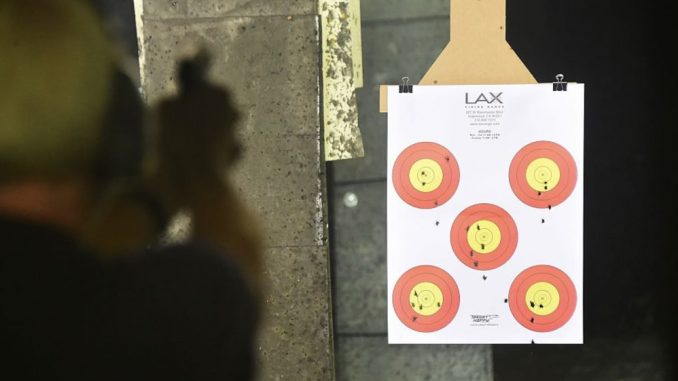 Two high school students in Lacey Township, New Jersey, say they were punished for "disrupting the school climate" after they posted a photo of themselves shooting legal firearms at a private gun range.
The students say they received in-school detentions at Lacey Township High School for sharing the photo. The case was first reported by the shooting sports news site AmmoLand.
The Lacey Township High School student handbook reportedly states students are subject to suspension if they are "reported to be in possession of a weapon of any type for any reason or purpose whether on or off school grounds during the academic year."
That means the students technically were in violation of the policy as it reaches into their private lives at home.
In addition to a "long term suspension," students who violate the policy are also subject to an "evaluation by the high school Child Study Team."
Now the school is looking at a legal battle over the policy.
Association of New Jersey Rifle and Pistol Clubs (ANJRPC) attorney Dan Schmutter wrote a letter to the Lacey Township School District demanding that the policy be rescinded immediately and the students' records wiped clean.
The attorney is also asking for the school district to apologize to the students and their families.
"Both the actions taken against the students and the Firearms Policy, are in blatant violation of the First and Second Amendments to the United States Constitution and the free speech protections of the New Jersey Constitution," the letter states.
Schmutter told IJR that the school's policy is "plainly unconstitutional."
"It's no different than if they tried to punish a student for a book they read at home," he added.
Lacey Township School District Superintendent Craig Wigley did not immediately respond to IJR's request for comment, but he did dispute some of the information circulating on social media in an emailed statement to the Daily Caller:
I will share with you the information posted on social media is incorrect and the facts are contained in confidential student records. I hope this helps answer your question and invalidity of social media misinformation. No students have been suspended for a gun offense now or during my tenure.
However, the students seem to be claiming they were given in-school detentions, not suspensions. Secondly, Schmutter told IJR he has been in touch with the students' families and they said the students were "placed in a room and not allowed to go to class or take tests."
"That sounds like a suspension," he said. "They may call it something else. If that turns out to not be the case it would be very good, but that's what we're being told."
Regardless of whether disciplinary action truly took place, Schmutter said the school district is still not entitled to infringe on students' constitutional rights with such an overreaching policy.
ANJRPC Executive Director Scott Bach confirmed his group is prepared to sue "if the school district refuses to do the right thing."
Students' visit to gun range 'none of your damn business,' parents say