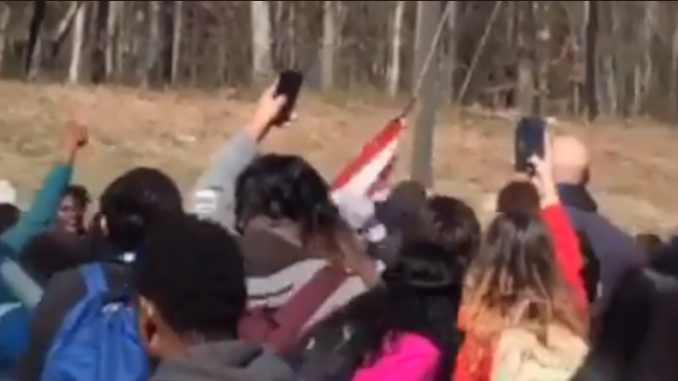 NASHVILLE, Tenn. (WZTV) – Metro Nashville Public Schools responded to a "disruptive" protest caught on video at Antioch High School during the national school walkout Wednesday.
Students from around the country filed out of school at 10 a.m. to honor the 17 victims of last month's deadly shooting at Marjory Stoneman Douglas High School in Parkland, Florida. Thousands of students in middle Tennessee took part in the walkouts.
Videos shared with Fox 17 News on social media show students at Antioch High School ripping down an American flag during the national walkout against gun violence.
[/video]
MNPS spokeswoman Michelle Michaud said no one was injured and school security acted quickly to address the situation.
Read the full statement from MNPS below:
At MNPS, we respect the right of our students to advocate for causes that are important to them. Unfortunately, some students on our Antioch campus today chose to protest in ways that significantly disrupted school operations and threatened the safety and order for other students and staff within our school. Swift action was taken by school security and MNPD to address the situation. No students or staff members were injured during the walkout.
The safety of our students and staff is our top priority. Inappropriate behaviors that threaten school safety will be handled immediately and firmly in accordance with the Student Code of Conduct and MNPD.
We understand that our students may be feeling lots of emotions, including anxiety, fear and even anger about today's events. We encourage parents to talk to your child(ren) about how they may be feeling, and the importance of expressing themselves in appropriate ways while at school. MNPS also has counselors available and ready to talk to students at any time. We look forward to welcoming students back tomorrow for a great day of teaching and learning.