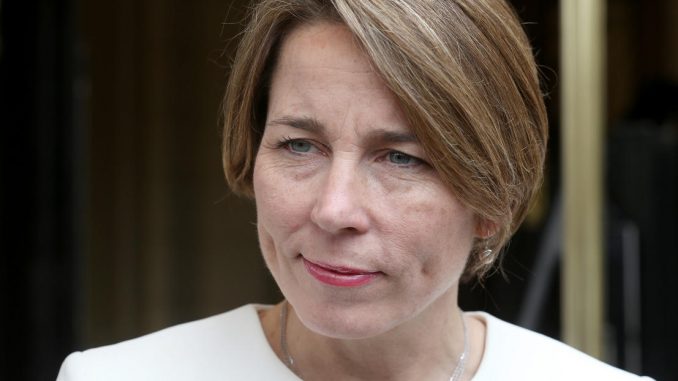 Bay State gun shops challenging Attorney General Maura Healey's enforcement notice regarding assault weapons have made a case that the directive is unconstitutional and will have their day in court, a federal judge has ruled.
Healey's July 20, 2016 enforcement notice has been challenged by businesses owners who argue that it has caused uncertainty as to what constitutes a "copy" or "duplicate" under the state's assault weapons ban. They say that a "fear of prosecution" has caused them to stop selling certain weapons that they had previously sold.
They argue that the AG's notice is unconstitutionally vague, violates the Second Amendment, and deprives gun shops of property without due process. U.S. District Court Judge Timothy Hillman today ruled that their case has merit and denied a motion to dismiss brought by Healey's office.
"At this stage, the Court finds that the Complaint is sufficient to establish a plausible claim that the Attorney General's actions have deprived the Plaintiffs of property without due process," Hillman wrote.
Healey's enforcement notice sought to clarify what constitutes a copy or duplicate weapon by outlining two tests. According to the directive, a gun is a copy if "its internal operating system is essentially the same as those of a specifically-banned weapon or if the gun has key functional components that are interchangeable with those of a banned weapon."
But attorneys for the gun shops say they asked Healey's office for guidance after her office issued a clarifying directive on Aug. 18, 2016, but they were told to "use their best judgment," according to court documents. In turn, they argue that they have not been given fair notice as to what guns sales are barred.
"This Court cannot dismiss the Plaintiffs' challenge to the Notice because they have raised genuine questions as to whether it gives 'fair notice of conduct that is forbidden' with respect to the same of certain weapons," Hillman wrote.
Healey argued that, even if she were required to take down the notice, her office could still prosecute gun shops for selling copies or duplicates of the weapons she listed, rendering the lawsuit useless. But Hillman said there "are a range of potential remedies that would mitigate the harm caused by a lack of clarity in the Attorney General's communication on this matter."
Healey's office and attorneys from the gun shops did not immediately respond to a request for comment.