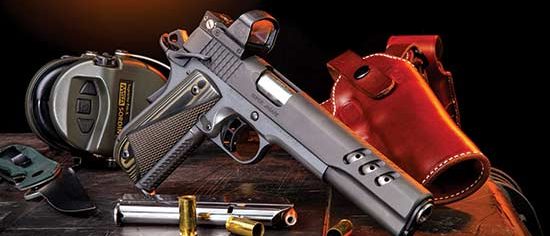 By Mark Hampton, American Handgunner
Photos By R. Jones/The Imagesmith, LLC
It seems every time I turn around, gun manufacturers are introducing new 10mm pistols. What's up with the resurgence of the Centimeter? Is it hunters, folks looking for a powerful personal defense or home protection round, or shooters who simply enjoy the 10? Or is it, as I suspect, all of the above?
I'll confess I'm happy to see the 10mm gaining traction. It's a fine caliber, easy to shoot, easy to load and reliable in the field and for defense — maybe especially for defense. When Kimber asked me to come by their booth at a trade show I figured they wanted me to look over some new products. I wasn't surprised when they handed me what I took to be "another 1911." But once my vision cleared and I focused, I began to notice things setting this one apart. The big smiles from the Kimber crew should have been a tip too. Kimber's new Super Jagare 10mm pistol was loaded with embellishments far exceeding my expectations. This is a handgunner's handgun at every level and something special, indeed.
From The Swedish Word
Jagare is derived from a Swedish term for "Hunter." So I guess we could say "Super Jagare" would exemplify a supreme hunter. You can basically tick off every cool point you can dream up for a gun like this, starting with the 6″ ported long slide. And it's not only optics-ready, but comes stock with a Leupold DeltaPoint Pro already installed. This categorically takes a huge leap out of the starting gate. You start the race already ahead.
The red dot sight from Leupold is definitely an asset when it comes to hunting or shooting for groups on paper — especially for aging eyes. I've enjoyed this optic fitted on other 10mm pistols in the past and have never encountered a problem. The 2.5 MOA dot reticle will enhance shot placement when that big mean hog or whitetail buck comes strolling along, and target acquisition can be expeditious with a little practice. The rugged Leupold optic is directly mounted to the slide in the lowest profile possible. Nothing looks added on, it's as if the sight was simply part of the design from the beginning. Which it likely was.
The match grade, 6″ ported stainless barrel — mated to a match-grade bushing too — wears a weather resistant coating Kimber calls Diamond-Like Carbon (DLC). There are three ports on each side of the barrel and they do indeed help with reducing muzzle flip. The Super Carry cocking serrations on the slide make slide manipulation painless even when your fingers are sweaty — which they just might be when you lay eyes on the huge hog in your sights.
This elegant gun features an ambidextrous thumb safety with a high ride grip safety. A portion of the green and black G-10 grips feature a checkered highlight, not only attractive, but also contributing to a comfortable, secure grip. The front and backstrap come with scale-like serrations Kimber calls Super Carry, providing the pistol with a positive grip under recoil.
The stainless steel rounded heel grip frame eliminates sharp edges. I appreciate its ascetic appearance too. The face of the two-hole trigger wears thin serrations and was perfectly comfortable during targeting. Kimber states a full carry melt on the frame and slide offers an increase in "wear-ability" and snag-free performance. My test gun tipped the scales at 42 ounces with an empty 8-round magazine inserted.
–
–
–
Kimber Quality
Overall fit and finish were what you'd expect from Kimber. The Super Jagare is well-balanced and points great. That long slide sort of "hangs" out there offering added weight to stabilize things. And the extra barrel length helps ballistics from that hot cartridge, too.
The pistol is loaded with trimmings and has a "custom shop" feel to it, making it a serious handgun not only for hunting, but personal defensive and just plain shooting pleasure. In my opinion, it's a semi-custom production pistol ready for serious work right out of the box. It looked good, and I was anxious to find out if it was that good in the real world too.
–
–
–
Ammo Wealth
Not only are gun manufacturers embracing the 10mm auto but ammo companies are jumping aboard as well. There is some mighty fine factory ammo available in a variety of bullet weights designed for specific applications. For testing purposes I loaded the truck full of CorBon, Winchester, Federal, HSM, Buffalo Bore, DoubleTap, HPR, Hornady, SIG and American Eagle ammo. Just a few years ago, this would have been impossible, but this factory ammo line-up shows how shooters are driving the growth of this great round. If you make it they will come.
For plinking, practice and some range work, I shoot mainly 180-gr. FMJ loads. When hunting season approaches I switch to hunting bullets — mainly 180-gr. bullets from several makers. There are some excellent factory loads for hunting, including Federal's 180-gr. Trophy Bonded JSP; SIG SAUER's 180-gr. V-Crown JHP; Hornady's 180-gr. XTP, as well as other 180-gr. offerings from HSM, CorBon, HPR, DoubleTap and Buffalo Bore. Any way you slice it; there's plenty of quality ammo available.
At the range I started shooting at 25 yards. A black target was used in order to see the red dot more easily. The Leupold DeltaPoint Pro is easily adjusted using windage and elevation screws and it didn't take long to get sighted-in with 180-gr. bullets. By pushing the top button on the optic you can adjust the intensity of the red dot. This is a big plus when shooting in different lighting conditions and you need to learn how to use this feature to your best advantage. Low light means a softer red glow. Bright, sunny desert days? Crank the red up.
Once everything was sorted out, I began shooting 5-shot groups. Several things caught my attention early on — this pistol can shoot. When I did my part, several groups around 2″ were achieved with more than one brand of ammo. I'm thinking younger eyes could do even better. The gun is very mild mannered, and obviously the 6″ ported barrel contributes to recoil management. Empty cases were ejected cleanly. Thanks to the assistance of Caldwell's brass trap, I didn't have to waste time and go searching for empty cases. The mesh netting catches all the brass slinging out of any semi-auto and it sure eliminates a lot of time-consuming frustration trying to find empty brass.
–
50 Yards
After dialing-in at 25 yards I moved out to 50. Groups opened up a bit but when the stars lined-up nicely, 5-shot groups hovered around 3″ to 4″. Overall, I was pleased. It was sort of an amazing thing to put the dot on the target and see bullet holes appear in the same spot. Very fun!
The 6″ long slide wasn't too picky about ammo but did tend to favor certain loads. At least my gun did, so it'd be good to do some experimenting with yours. I moved to 75 yards, and to be perfectly honest, this is about as far as I would feel comfortable shooting at game. With Federal's 180-gr. Trophy Bonded JSP I could put five shots inside "minute-of-boar" consistently. I'm too used to those 1″ 100-yard groups from my single-shot pistols, but still found the 5″ groups at 75 to be well within what's needed for hunting.
At this point I only had one complaint about this remarkable 10mm. According to my Lyman digital trigger pull gauge, the trigger on my test gun broke at 5.57 lbs. Honestly, I believe my groups would shrink somewhat with a lighter trigger pull and it'd be worthwhile to invest in a bit of tweaking if your gun is the same. I'd like to see it more like a solid four, but very crisp and sharp.
–
100 Yards?
With reservations, I moved out to 100 yards. Keep in mind the 2.5 MOA dot will cover 2.5″ at this distance, which is why the size of the dot in any "dot" sight is important to know. Bigger dots might cover 6″ or more at that distance. I didn't adjust the red dot for 100 yards, and just shot it as it was originally sighted-in at 25 yards.
Interestingly enough, the groups were not terribly low, but with my old eyes, I wouldn't feel comfortable shooting at game from this distance with this trigger and sight combo. But what I did learn is in the right hands, I'll readily admit I'm sure there are folks who could put this Kimber to work at 100 yards.
For me, the 10mm would be a good choice for hunting in the woods or where shots stayed inside 75 yards. But heck, I've killed a lot of boar and deer at 50 yards or less. Sometimes way less. On a lark, I went to the farm and shot steel plates off-hand out to 60 yards or so. I believe I could down a big pig with this pistol within 75 yards or so, even off-hand. I may have to do just that soon.
After running over 250 rounds through the Super Jagare there was not one failure encountered. I've found this to be the case with the 10mm in most platforms. I think the stout loads and big cartridge tend to run the 1911 design very reliably. And all of the factory ammo tested performed well. Modern technology is amazing and the consistency and overall high quality of virtually every factory load was impressive. It's not exactly cheap to buy 10mm factory ammo, but you do seem to get what you pay for.
Even though I did not shoot any handloads, there are some very good bullets and loading data available. When I do load, I run Sierra, Nosler or Hornady 180-gr. bullets in quality Starline brass. There are many powders working well in the 10mm, including Blue Dot, W 231, Unique, 800-X, Universal and many others. I frequently use CCI primers. With the help of Redding's T 7 turret press, you can crank out loads for practice, bowling pin matches, serious hunting medicine, or any other application you need. Handloaders can certainly add versatility to the 10mm Auto.
–
Final Thoughts
A friend of mine asked how I plan on carrying this pistol, and it's really an easy choice for me. Diamond D Custom Leather makes a dandy across-the-chest rig they call the "Guides Choice." It can even accommodate the red dot optic and comes with a spare magazine pouch. This makes a great option for long hikes, driving around on the Polaris Ranger on the farm, or even riding a horse or trail bike. The gun is carried safely and comfortably riding across your chest, not weighing your pants down or getting in the way under your arm like a standard shoulder rig.
For those who like hunting with a semi-auto, the Super Jagare is a worthy candidate. I would feel comfortable hunting hogs, deer and varmints with the Kimber, keeping in mind to keep inside the effective range of the cartridge — and your talents. There are some really good hunting bullets available for handloaders, and quality factory rounds if you don't handload.
Hunting is not the only reason for choosing the Super Jagare. Connoisseurs of Kimber may want to add this pistol to their collection — just because. There are some who just enjoy and appreciate shooting a powerful semi-auto even if it's at paper targets, steel plates, Zombies, or rocks on the pond bank. And, the 10mm provides plenty of stopping power for personal defense, if that's a concern.
Who's going to want the Super Jagare 10mm? Likely you will.
Thanks to American Handgunner for this post. Click here to visit AmericanHandguner.com.