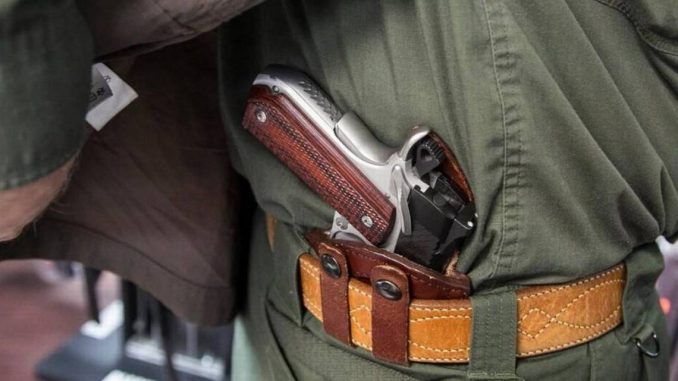 In a New York Times column entitled "How to Reduce Shootings," Nicholas Kristof writes, "It is true that guns are occasionally used to stop violence. But contrary to what the National Rifle Association suggests, this is rare. One study by the Violence Policy Center found that in 2012 there were 259 justifiable homicides by a private citizen using a firearm."
That statement grossly misleads by pretending that firearms only stop violence when they are used to kill criminals. As explained by the National Academies of Sciences in a 300+ page analysis of firearms studies, "effective defensive gun use need not ever lead the perpetrator to be wounded or killed. Rather, to assess the benefits of self-defense, one needs to measure crime and injury averted. The particular outcome of an offender is of little relevance."
Likewise, a 1995 paper in the Journal of Criminal Law and Criminology states, "This is also too serious a matter to base conclusions on silly statistics comparing the number of lives taken with guns with the number of criminals killed by victims. Killing a criminal is not a benefit to the victim, but rather a nightmare to be suffered for years afterward."
The purpose of having a gun for defense is not to kill criminals but to prevent them from killing or harming others. Accordingly, the same 1995 paper found that "only 8%" of people who use a gun for defense "report wounding an adversary." Given the study's sample size, this 8% figure has a margin of sampling error of ± 4 percentage points with 95% confidence. The authors conclude that "the rather modest 8.3% wounding rate we found is probably too high" and that defensive gun uses "are less serious or dramatic in their consequences than our data suggest."
In other words, people who use a gun for defense rarely harm (much less kill) criminals. This is because criminals often back off when they discover their targets are armed. A 1982 survey of male felons in 11 state prisons across the U.S. found that 40% of them had decided not to commit a crime because they "knew or believed that the victim was carrying a gun."
Contrary to Kristof's deceitful claim, a range of credible data suggests that civilians use guns to stop violence more than 100,000 times per year.
For instance, the above-cited 1995 paper was based on a survey of 4,977 households, which found that at least 0.5% of households over the previous five years had members who had used a gun for defense during a situation in which they thought someone "almost certainly would have been killed" if they "had not used a gun for protection." Applied to the U.S. population using standard scientific methods, this amounts to at least 162,000 saved lives per year, excluding all "military service, police work, or work as a security guard."
Since this data is from the 1990s and is based on people's subjective views of what would have happened if they did not use a gun, it should be taken with a grain of salt. However, the same survey found that the number of people who used a gun for self-defense was about six times greater than the number who said that using the gun "almost certainly" saved a life. This amounts to at least 1,029,615 defensive gun uses per year, including those in which lives were saved and those of lesser consequence.
Notably, anti-gun criminologist Marvin E. Wolfgang praised this study, which was conducted by pro-gun researchers Gary Kleck and Marc Gertz. In the Journal of Criminal Law and Criminology, Wolfgang wrote:
"I am as strong a gun-control advocate as can be found among the criminologists in this country."
"Nonetheless, the methodological soundness of the current Kleck and Gertz study is clear. I cannot further debate it."
"The Kleck and Gertz study impresses me for the caution the authors exercise and the elaborate nuances they examine methodologically. I do not like their conclusions that having a gun can be useful, but I cannot fault their methodology."
Other credible studies provide evidence that defensive gun uses are much more common than Kristof leads his readers to believe.
Anti-gun researcher David McDowall and others conducted a major survey of defensive gun use that was published by the Journal of Quantitative Criminology in 2000. The authors did not take their survey results to their logical conclusions by using the common practice of weighting them to determine what the results would be for a nationally representative survey. But when one does this, the results imply that U.S. civilians use guns to defend themselves and others from crime at least 990,000 times per year. This figure accounts only for "clear" cases of defensive gun use and is based upon a weighting calculation designed to minimize defensive gun uses.
Similarly, a 1994 survey conducted by the U.S. Centers for Disease Control and Prevention [CDC] found that Americans use guns to frighten away intruders who are breaking into their homes about 498,000 times per year.
In 2013, President Obama ordered the Department of Health and Human Services and CDC to "conduct or sponsor research into the causes of gun violence and the ways to prevent it." In response, the CDC asked the Institute of Medicine and National Research Council to "convene a committee of experts to develop a potential research agenda focusing on the public health aspects of firearm-related violence…." This committee studied the issue of defensive gun use and reported:
"Defensive use of guns by crime victims is a common occurrence, although the exact number remains disputed…."
"Almost all national survey estimates indicate that defensive gun uses by victims are at least as common as offensive uses by criminals, with estimates of annual uses ranging from about 500,000 to more than 3 million…."
[S]ome scholars point to a radically lower estimate of only 108,000 annual defensive uses based on the National Crime Victimization Survey," but this "estimate of 108,000 is difficult to interpret because respondents were not asked specifically about defensive gun use."
"Studies that directly assessed the effect of actual defensive uses of guns (i.e., incidents in which a gun was 'used' by the crime victim in the sense of attacking or threatening an offender) have found consistently lower injury rates among gun-using crime victims compared with victims who used other self-protective strategies…."
In sum, the difference between credible defensive gun use data and Kristof's deceitful "259" figure is enormous. By misleading his readers to believe that firearms are rarely used for defense, he and his editors at the Times could dissuade people who may otherwise save lives from ever getting the firearms that enable them to do so.