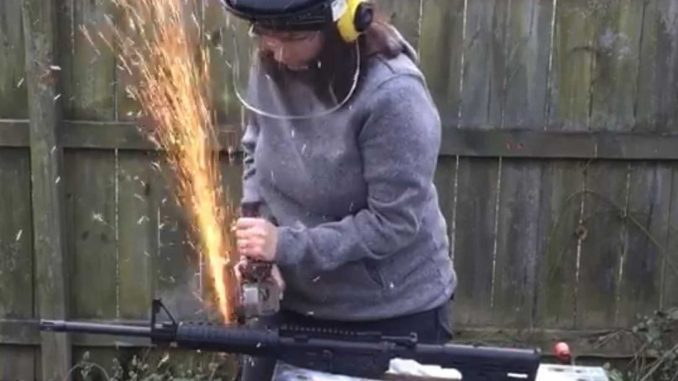 A Democratic congressional candidate is reportedly being investigated by the Bureau of Alcohol, Tobacco, Firearms and Explosives (ATF) after she appeared to break the law while destroying an AR-15 in a virtue signaling stunt following the tragic shooting at Marjory Stoneman Douglas High School.
Democrat Karen Mallard, a teacher who has spent 30 years in the classroom, is running for Virginia's 2nd Congressional District against Republican Congressman Scott Taylor.
Following the recent school shooting in Parkland, Florida, Mallard decided to destroy an AR-15 that she claims her husband purchased a while back, saying in dramatic fashion, "I told him, I wanted this gun out of my house!"
Mallard proceeded to try to destroy the rifle by cutting most of the barrel off with a saw, which did not destroy the rifle, rather, she created a short-barreled rifle, which is a National Firearms Act (NFA) regulated item. Thousands of people have commented on the video on her Facebook page, mocking her and pointing out that she may have broken the law with her actions. ABC 13 News reports:
Master Police Officer Tonya Pierce, spokeswoman for the Virginia Beach Police Department, confirmed that the rifle was in the department's possession. Pierce told 13News Now the ATF was looking into the situation.
Watch:
#BREAKING: The ATF is investigating Democratic congressional candidate Karen Mallard (@mallardforva) after she posted a video on Facebook that shows her cutting apart an AR-15 rifle and thus creating a short barreled rifle which is an NFA regulated item.https://t.co/n91LNe6vII pic.twitter.com/ZGlm2yqq9z

— Ryan Saavedra (@RealSaavedra) March 9, 2018
You cannot make this stuff up!