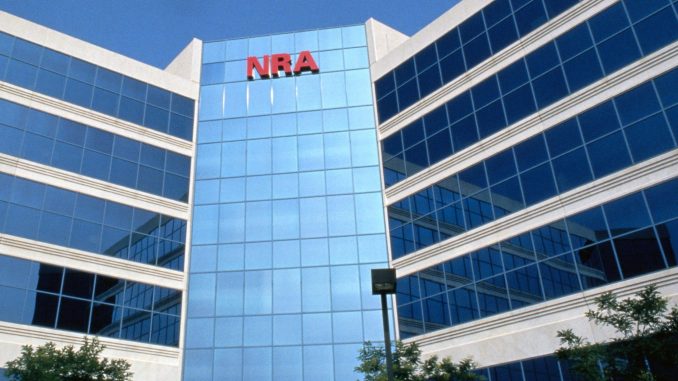 Wells Fargo & Co. has emerged as the preferred financier for the U.S. gun industry.
The bank has helped two of the biggest U.S. firearm and ammunition companies access $431.1 million in loans and bonds since December 2012, when the gun control debate gained steam after the school shooting in Newtown, Connecticut, according to data compiled by Bloomberg. That puts it on the top of the list of banks arranging funding for gun makers.
Wells Fargo also has a long relationship with the National Rifle Association, inherited from banks that Wells took over. The San Francisco-based Wells Fargo created a $28 million line of credit for the NRA and operates the primary accounts for the pro-Second Amendment group, financial documents show.
Following the Feb. 14 shooting at a Parkland, Florida, high-school that left 17 dead, retailers such as Dick's Sporting Goods Inc. have implemented stricter gun rules, such as increasing the age necessary to buy one, and some companies, like Delta Air Lines Inc., have cut ties with the NRA's member-benefits program. Those changes were largely driven by boycott movements on social media. Banks, which have made millions financing the NRA and firearms manufacturers, haven't been a focus in the same way.
 Encourage Responsibility
"Financial firms can use their relationships with the gun industry to encourage responsible sales practices," said Avery Gardiner, co-president of the Brady Campaign, a gun-control advocacy group. The organization has no plans to pressure Wells Fargo at this time, she said.
Wells Fargo said in a statement that it didn't comment specifically on customer relationships.
"Any solutions on how to address this epidemic will be complicated," the statement read. "This is why our company believes the best way to make progress on these issues is through the political and legislative process." The statement continued: "We plan to engage our customers that legally manufacture firearms and other stakeholders on what we can do together to promote better gun safety for our communities."
These points were mirrored in a memorandum to employees from Chief Executive Officer Tim Sloan on Wednesday following Bloomberg's report.
Other banks are active as book runners for gun makers, sometimes jointly. Morgan Stanley helped arrange $350 million in debt and TD Securities $332.5 million, according to data compiled by Bloomberg. Bank of America Corp. and JPMorgan Chase & Co. and two other banks each arranged $273.6 million. That's counting loans and bonds to gun and ammunition manufacturers American Outdoor Brands Corp. and Vista Outdoor Inc. since the day of the Sandy Hook bloodshed. Another gun maker, Sturm Ruger & Co., currently has no public debt. Remington Outdoor Inc. has debt outstanding, but it was issued before December 2012.
TD Securities said the bank condemns violence in any form and shares the public's outrage over the Florida school shooting. "We strongly support bipartisan efforts aimed at preventing these types of tragedies from happening again." The bank declined to comment further, citing policy against speaking about customer relationships.
Immediate Step
Bank of America said in a statement it was examining what it could do to help end mass shootings. "An immediate step we're taking is to engage the limited number of clients we have that manufacture assault weapons for non-military use to understand what they can contribute to this shared responsibility," the statement read.
JPMorgan, which worked only with Vista, declined to comment. So did Morgan Stanley.
The NRA paid $9.9 million in banking fees in 2015 and 2016, according to annual reports filed with the Internal Revenue Service. The NRA didn't respond to requests for comment.
$1 Billion Debt
Dealing in any debt can be tricky, though the relationships have been lucrative for Wells Fargo.
Remington Outdoor, a division of private equity giant Cerberus Capital Management that's expected to file for bankruptcy this month, is saddled with nearly $1 billion in debt. Unable to pay its creditors, Remington Outdoor and the 12 firearms companies it owns will likely become the property of lien holders.
Remington Outdoor's term loan fell to 26 cents on the dollar after the company announced its bankruptcy intention, and its third-lien bond due 2020 trades around 23 cents on the dollar.
Banks who provided Vista Outdoor with a $400 million revolving line of credit in 2016 are faring better. They reap 0.30 percentage points in a commitment fee for unused parts of the revolver. For Wells Fargo, who was credited with pledging $57.14 million, that adds up to a maximum of $171,420 each quarter when the fee is assessed assuming the credit line is unused at the time. If the full credit line were in use, Wells Fargo would stand to make 1.75 percentage points over the benchmark Libor rate. Vista Outdoor's 5.675 percent 2023 bond traded at around 98.25 cents on the dollar as of March 5, according to Trace bond price data, and its term loan traded at 99.75.
Remember Wachovia
Wells Fargo faced a boycott of its own after it was revealed that the bank may have created 3.5 million bogus accounts for customers.
The bank's involvement with the NRA stemmed from its 2008 purchase of Wachovia Corp. Wachovia's relationship with the NRA, in turn, came from its takeover of First Union National Bank.
The NRA and Wells Fargo amended its longstanding financial arrangement in 2014, according to public records, when the lobbying group agreed to borrow $22.6 million in exchange for pledging its Fairfax, Virginia, headquarters as collateral. The building was assessed at $40.4 million last year, according to Fairfax County records, down from $57.9 million a decade ago.
It's been a profitable relationship for Wells Fargo. The variable-rate loan of as much as $28 million carries an interest rate of 6.08 percent, according to the NRA's most recent financial statement. That's higher than typical commercial-mortgage rates. Based on year-end 2016 figures, Wells Fargo would make an estimated $1.2 million annually from the loan. The NRA owed Wells Fargo $19.8 million as of Dec. 31, 2016.
Interest-Rate Swap
The loan includes an interest-rate swap between the two parties. The swap has further boosted Wells Fargo's fortunes. The bank was in the money by about $2.1 million as of year-end 2016, NRA documents show.
The NRA's main account had about $13.2 million in cash and cash equivalents in its Wells Fargo accounts, not including investments, at the end of 2016, NRA documents show.
The NRA and its Freedom Action Foundation bank only with Wells Fargo, according to documents filed with state regulators. The group's Civil Rights Defense Fund had bank and investment accounts at Wells Fargo and an investment account at Morgan Stanley. The NRA Foundation also had bank and investment accounts at Wells Fargo, and a separate investment account at Charles Schwab.
The NRA's political action committee, the Political Victory Fund, also banks with Wells Fargo, Federal Election Commission records show. Over the last three years, the political action committee has paid Wells Fargo nearly $71,000 in various banking fees.
Michael R. Bloomberg, founder of Bloomberg News parent Bloomberg LP, is the donor to groups that support gun control, including Everytown for Gun Safety.
— With assistance by Neil Weinberg, and Eliza Ronalds-Hannon