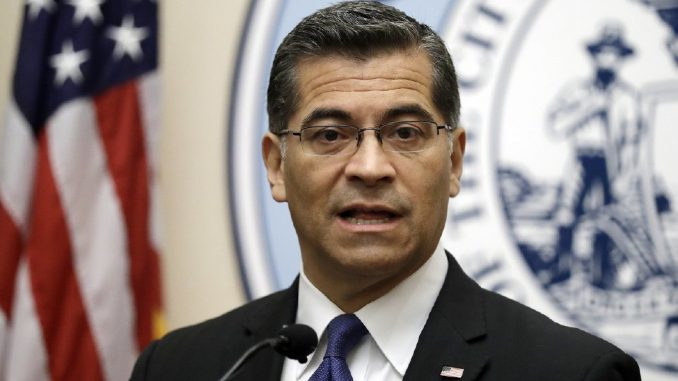 A federal judge in Northern California has declined a request from California Attorney General Xavier Becerra to block the Trump administration's decision to withhold a law enforcement grant to the state as part of its crackdown on states and jurisdictions that protect illegal immigrants.
Becerra asked for a preliminary injunction against the Trump administration's decision, but Judge William Orrick of the U.S. District Court for the Northern District of California ruled against taking that step.
"The injury threatened is not irreparable," Orrick wrote. "The amount of money at stake is small compared to the state's budget. Payment is delayed, for the moment. The DOJ appears to be using its regular administrative process to decide whether it will follow its initial inclinations."
The judge said at some point in the future, the case "may help define the contours of the state's broad constitutional police powers under the Tenth Amendment and the federal government's 'broad, undoubted power over the subject of immigration and the status of aliens.'"
The Trump administration has been cracking down on cities and jurisdictions that offer protections for people in the U.S. illegally.
In July, Attorney General Jeff Sessions announced that cities and states would only be eligible to receive specific grants from the Justice Department if they follow specific requirements, including certifying compliance with federal immigration law.
To be eligible for the Edward Byrne Memorial Justice Assistance Grants, or JAG grants, cities have to adhere to three criteria. They include giving 48-hour notice to the federal government before releasing anyone ICE wants the state to keep detained, and giving Immigration and Customs Enforcement agents access to detention facilities.
State and local officials must also provide personal information and release dates of illegal immigrants detained across the state.
California blocked officials from providing that information to the federal government.
Aspects of the Justice Department's tougher sanctuary city policy rolled out last year have since been challenged in federal courts. Last year, a federal judge in Chicago issued a preliminary nationwide injunction blocking the Justice Department from requiring city officials give federal agents access to detention facilities.
The judge also barred the Department of Justice from requiring local officials to provide advance notice before releasing illegal immigrants from custody.