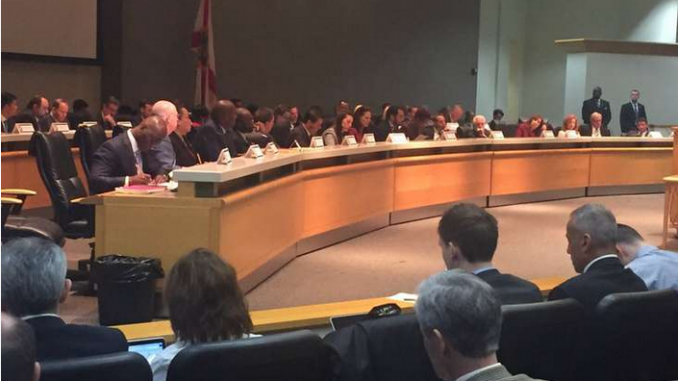 After vote, Speaker Richard Corcoran takes credit for ending 'gun-free zones' in classrooms
Facing anguished relatives and classmates of shooting victims, a panel of Florida legislators took the unprecedented step Tuesday of creating a new statewide program to put armed teachers in classrooms — over the vocal opposition of Parkland residents.
Voting along party lines, the House Appropriations Committee approved training teachers to carry guns in class under the direction of local law enforcement — if superintendents or school boards approve.
The Senate Appropriations Committee approved a similar bill later Tuesday.
"The last line of defense," said Rep. Jose Oliva, R-Miami Lakes, referring to teachers with guns.
The $67 million "school marshal" program is the most controversial aspect of a House bill that imposes a three-day waiting period for gun purchases, raises the age to buy any gun from 18 to 21 and gives police more power to seize guns from people who threaten themselves or others. Most of the money for the marshal program would be spent on training.
Oliva said the bill doesn't address whether teachers would be provided guns or would have to buy them. He said that should be decided locally by school boards and superintendents.
The goal: 10 marshals (teachers trained to carry a gun) in every school, which would equate to 37,000 statewide. The state would cover the costs of background checks, drug testing, psychological exams and 132 hours of training. The bill does provide a one-time $500 stipend for those who volunteer to have a gun.
The bill also calls for spending $400 million to put a school resource officer in every school, improve mental health counseling and make public school buildings safer.
The horror and agony of the Valentine's Day shooting at Marjory Stoneman Douglas High School filled a Tallahassee hearing room for four hours on Tuesday.
A 16-year-old girl recalled stepping over bodies of victims to get out of the school. A teacher described terrified students wanting to jump into a canal. A mother recalled the screams of a parent learning of a child's death.
Most Parkland parents strongly oppose arming teachers, but they praised legislators for taking the first steps in decades to improve school safety in Florida after the worst mass shooting at a U.S. high school.
"The FBI, the Broward Sheriff's Office, the school resource officers, you legislators — you all failed me and my little boy," said Max Schachter, whose 14-year-old son Alex was murdered. "I cannot wait for you to do the right thing and protect the children of this great state."
The mother of slain geography teacher Scott Beigel, who gave his life to save his students, pleaded with lawmakers not to put loaded guns in the hands of teachers, even after a rigorous training and screening program.
"It could easily cause additional chaos and fatalities," Linda Beigel Schulman told legislators. If another shooter attacks a school, she said, "with the ongoing chaos, law enforcement could unintentionally shoot at a teacher."
Her voice breaking, Beigel Schulman said her son became a teacher to teach, "not to be a law enforcement officer."
Experts were split on the question. Pinellas Sheriff Bob Gualtieri endorsed the program, but Lawrence Leon, chief of the school district police in Palm Beach County, is opposed.
Gov. Rick Scott and U.S. Sen. Marco Rubio oppose arming classroom teachers. President Donald J. Trump supports it.
A Democratic effort to strip the school marshal program failed on an 18-9 party-line vote.
Soon after the bill's passage, House Speaker Richard Corcoran's political committee, Watchdog PAC, sent an email blast that promoted a morning appearance on Fox News on his "game-changing legislation to end gun-free zones."
The email said: "President Trump is right — we should allow willing, trained teachers to carry a firearm."
Corcoran is considering seeking the Republican nomination for governor.
NRA lobbyist Marion Hammer unsuccessfully called for defeat of the bill. She said gun control provisions are unnecessary, ineffective and "won't stop massacres."
"These provisions are nothing more than an attack on the Second Amendment rights of law-abiding people," Hammer testified, while adding that she supports the provisions in the bill that address security measures in schools, which includes arming teachers.
Furious Democrats blasted Republicans for a flurry of late amendments to the bill and for prematurely cutting off debate. Several Democrats voted against the bill because they oppose arming teachers, but never got the chance to explain that on TV.
Rep. David Richardson, D-Miami Beach, called the stifling of debate "disgusting" and "deplorable."
The chairman, Rep. Carlos Trujillo, R-Miami, gave preference to Parkland residents who had driven nearly 500 miles to the state Capitol.
The assault weapons vote followed emotional pleas from a Parkland parent who's a friend of Gina Montalto, a 14-year-old girl killed by an AR-15-style assault rifle who was one of the 17 victims at Douglas High on Valentine's Day.
The 30-member panel rejected a proposal to outlaw the sale and possession of about 200 specific types of semi-automatic rifles.
The vote was 18 to 11. Eighteen Republicans voted no; 10 Democrats and one Republican, Rep. Bill Hager of Boca Raton, voted yes.
Among those voting no were the chairman, Trujillo, and Republicans Larry Ahern of Seminole, Michael Bileca of Miami, Blaise Ingoglia of Spring Hill, George Moraitis of Fort Lauderdale, Jeannette Nunez of Miami, Holly Raschein of Key Largo, Chris Sprowls of Palm Harbor and Oliva.
Those voting yes, in favor of a ban, were Democrats Lori Berman of Lantana, Bobby DuBose of Fort Lauderdale, Katie Edwards-Walpole of Plantation, Kristin Jacobs of Coconut Creek, Shevrin Jones of West Park, Kionne McGhee of Miami, Jared Moskowitz of Coral Springs, David Richardson of Miami Beach, Cynthia Stafford of Miami and Richard Stark of Weston.
Speakers urging a ban represented the Florida PTA, League of Women Voters, Equality Florida, and Faith in Public Life, a group that said it speaks for about 300 pastors.
"This is your opportunity. The world is watching," said Amber Hersh, a Parkland resident and friend of the family of Gina Montalto, 14, a Parkland murder victim.
The amendment was proposed by Rep. Carlos Guillermo Smith, D-Orlando, who proposed a ban after the Pulse nightclub massacre in June 2016.
"These weapons of war have become the gold standard for mass murderers," Smith testified.
Smith, who lost friends in the Pulse nightclub massacre, said he reviewed their autopsy reports. He provided graphic descriptions of the damage to the human body's internal organs by semi-automatic rifles.
The House bill includes $400 million to train school marshals, expand mental health, put a resource officer in every school and create more mobile crisis teams.
Also included are $1 million for a permanent memorial at Douglas High, and $225,000 to pay death benefits to three school staff members who lost their lives.
Funding that many school resource officers "would be a staggering amount of money," Judd told the Senate Appropriations Committee.
Sen. Kelli Stargel, D-Lakeland, said there might also be a shortage of willing staff.
"We don't have the manpower to staff the schools with the resource officers without the marshal program," she said.
Times/Herald Talllahassee staff writer Mary Ellen Klas contributed to this story.